CARLEY ZARZEKA: WEAR CLOSED TOE SHOES AND THROW ROCKS TO THE SIDE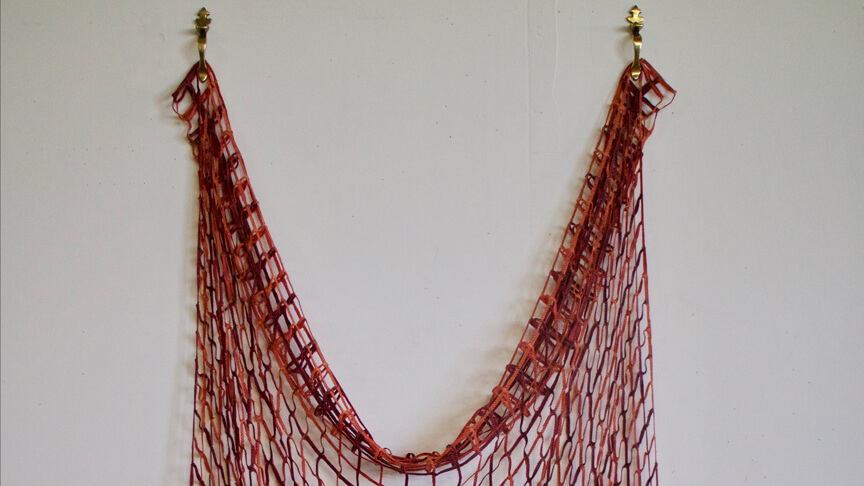 CARLEY ZARZEKA: WEAR CLOSED TOE SHOES AND THROW ROCKS TO THE SIDE
SEPTEMBER 20–NOVEMBER 2, 2019
---
Carley Zarzeka is the inaugural FEARS (Female Emerging Artist Residency Series) artist at UCCS. She was born in 1992 in Doylestown, Pennsylvania. In 2018, she received her MFA in Studio Art at The University of North Carolina at Chapel Hill.
The title of this exhibition, Wear Closed Toe Shoes and Throw Rocks to the Side, is both a command of protection and clearance, which are also two of the prominent formal themes throughout this new body of work. The exhibition includes wall-bound and freestanding assemblage sculptures built from found objects and knitting. The soft knitted forms weave, tie and uphold rackets, suet feeders, and cake pans, procuring the functionality and agency from the once used objects.
The role reversal between hard and soft elements in this exhibition examines the everchanging gender roles in the domestic space and is at the center of how each component simultaneously operates in the individual work and the exhibition as a whole.
For more information on the artist visit carleyzarzaka.com.
Opening Reception: September 20, 5-9pm
**Exhibition Dates: New closing date for exhibition: November 2, 2019
Gallery Hours:
First Friday, October 4, 5 – 9 pm
First Saturday, October 5, 1 – 6 pm
First Friday, November 1, 5-9 pm
First Saturday, November 2, 1-6 pm
Cost: free and open to the public
Curated by Dr. Katherine Guinness
Thank you to our generous sponsors: