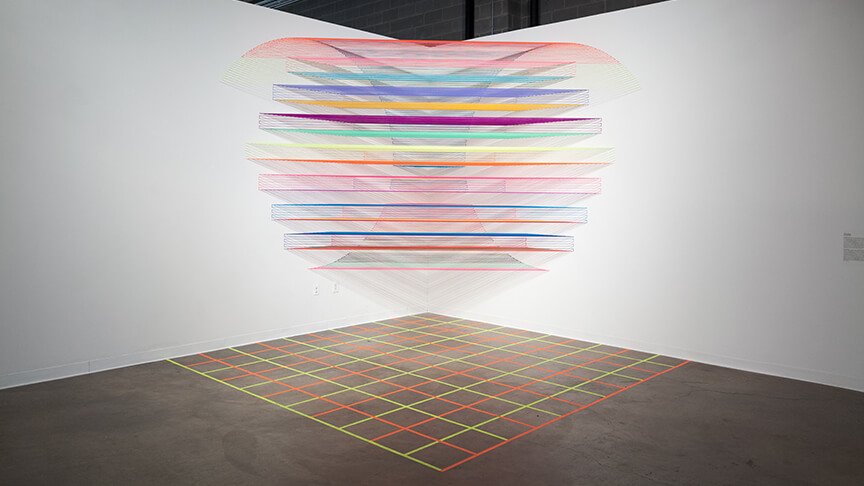 COLOR THEORY
JUNE 8–JULY 27, 2019
Camila Friedman-Gerlicz, Andrew Huffman, Clark Richert
---
HAPPENINGS
Events are free, but space is limited—register to secure your spot.
Artists' Reception & Gallery Chat
June 15, 2:00 PM–5:00 PM
GOCA Ent Center
---
Color Theory features three Colorado-based artists whose paintings and sculptural installations intersect color and mathematics. Discoveries in physics and mathematics ground our modern understanding and use of color, and artists have investigated this relationship for centuries. The exhibition will include a monumental installation inside the Ent Center for the Arts.
---
ABOUT THE ARTISTS
Camila Friedman-Gerlicz seeks to make the theoretical physical. As a visual artist and highly-trained theoretical mathematician, she employs formulas and algorithms as part of her process. After discovering surrealist artists, such as Man Ray, applying mathematical equations directly to their sculptures and paintings in Paris in the early 1900s, she was inspired to try this approach herself. The shape and coloring of the sculptural works in this exhibition are determined by a family of mathematical formulas varying by just two parameters. Rendering the formulas out of physical material, Friedman-Gerlicz offers viewers the ability to "touch" the math with a direct connection between brain and body in the colors and forms.
Andrew Huffman's work interacts with physical space in a vibrant and lively fashion, often investigating air itself as a medium and subject-matter. As viewers move around his color-filled works in painting and sculptural installation, geometry, mathematics, and improvisation inform the experience. As Huffman states: "My process parallels a jazz-musician searching for the right notes through time, constantly adjusting and improvising to tempo, varying instrumentations, textures, and musical tonalities and fields. Questions and possibilities are valued more than answers in these artistic constructs so experimentation and discovery direct my efforts away from striving for one-hundred-percent predictable outcomes with signified meanings." In addition to works in the gallery space, Huffman is creating a monumental installation responding to architecture of the Ent Center for the Arts that will remain on view through May, 2021.
Clark Richert has contributed mightily to contemporary art history, particularly in Colorado, through a lifetime of artistic experimentation. Richert explores symmetry and quasi-crystal patterns found in nature and theoretical mathematics in paintings, drawings, sculpture and more. Richert believes the underlying harmonies in his seemingly complex designs can be intuitively appreciated without deep mathematical knowledge, inviting viewers to have a contemplative experience with his art. Citing architect and futurist Buckminster Fuller's theories and artist Mark Rothko's use of color as deeply influential, Richert has himself greatly impacted the art world through his role in founding Drop City and as an emeritus faculty member at Rocky Mountain College of Art & Design.
Summer hours: Thursday–Saturday, 1–5 pm, or by appointment
---
This event is co-presented with:
UCCS Visual Art Program