TIME: BIENNIAL UCCS VISUAL ART FACULTY EXHIBITION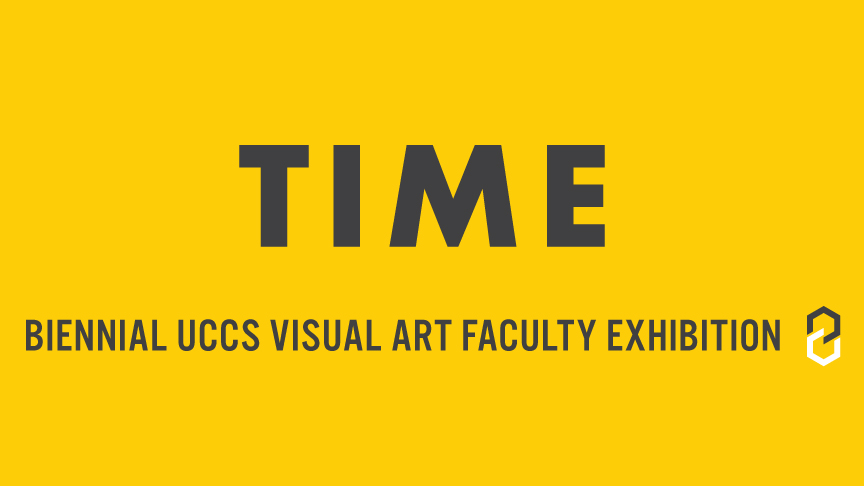 TIME: BIENNIAL UCCS VISUAL ART FACULTY EXHIBITION
JANUARY 31–MAY 12, 2019
Abbey Hepner, Ben Kinsley, Marina Eckler, Nikki Pike, Claire Rau, Corey Drieth, Jeremy Click, Pauline Foss, Stacy Platt, Matt Barton, Nick Henning, Carol Dass, & Jessica Langley
---
HAPPENINGS
Events are free, but space is limited—register to secure your spot.
Opening Reception
January 31, 5:00 PM–8:00 PM
GOCA Ent Center
Gallery Chat With Artists: Matt Barton, Jeremy Click, Corey Drieth, Nick Henning, Claire Rau
February 21, 6:00 PM–7:00 PM
GOCA Ent Center
Gallery Chat With Artists: Carol Dass, Ben Kinsley, Jessica Langley, Stacy Platt
April 5, 6:00 PM–7:00 PM
GOCA Ent Center
Gallery Chat With Artists: Marina Eckler, Pauline Foss, Abbey Hepner
April 25, 6:00 PM–7:00 PM
GOCA Ent Center
Fin: A Going Away Party
April 22, 6:00 PM–8:00 PM
GOCA Ent Center
---
Due to severe weather, the March 14 artist talks have been canceled and will be rescheduled.
The biennial UCCS Visual Art faculty exhibition celebrates and investigates the work of contemporary artists serving as educators at UCCS. GOCA has championed conceptually innovative projects in its exhibition spaces for the past 37 years, inviting artists from this region and beyond to manifest their visions in collaboration with our students, faculty and staff. For this exhibition, we invited our faculty to respond to a theme that is connected to the biennial POLLINATE festival the exhibition is part of – TIME.
Time is both a physical dimension of our universe and and a marker of change. Beyond the ticking of seconds in a minute, minutes in an hour and beyond, time is also the accumulation of history, the forward march of ever-faster connections through contemporary technologies, and the incremental tedium of everyday experience. Contemporary art and artists have responded to time not as a unitary subject or theme, but in a multi-faceted way that's as diverse as contemporary art itself.
Works in this exhibition span a broad range of media and concepts – painting, drawing, sculpture, sound installation, kinetic works, time-based media and performative happenings are all represented. The artists were invited to exhibit new or recent work connecting to overarching theme. It is an honor to give platform to the work of our artist faculty at UCCS – I invite you to connect with the work in our spaces this spring at our Marie Walsh Sharpe Gallery of Contemporary Art site, in the Ent Center for the Arts.
–Daisy McGowan, Director and Chief Curator, UCCS Galleries of Contemporary Art
Presented as part of Pollinate: Biennial Arts Festival, exploring the theme of TIME across southern Colorado, April 1-8, 2019. www.pollinateCOS.com
ADDITIONAL EVENTS (see "Happenings" above):
Artist Talks: 2/21, 3/14, 4/5
Fin: A Going Away Party: 4/22
In celebration of Earth Day 2019, visual artist Marina Eckler presents a farewell event to bid the earth, as we know it, goodbye due to climate change predictions and actualities. In the tradition of going away parties, visitors will be invited to mill around, eat cake, and share thoughts and memories of humans.
Gallery Hours:
Thursday-Saturday 1-8pm
Sunday 1-5pm
or by appointment at 719 255 3504
CLOSED for spring break: March 25-31
---
This event is co-presented with:
---
Thank you to our generous sponsors: