VISITING ARTISTS AND CRITICS SERIES: LENKA CLAYTON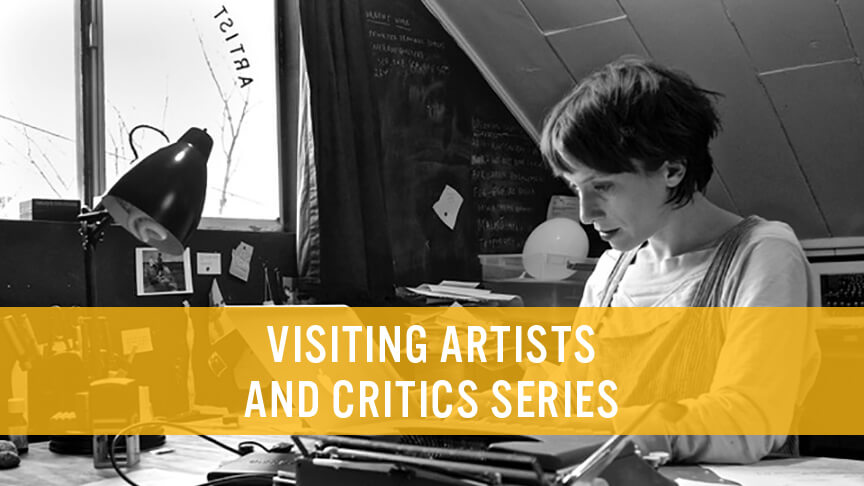 VISITING ARTISTS AND CRITICS SERIES: LENKA CLAYTON
MARCH 7, 2019 | 6:30 PM
---
Lenka Clayton is an interdisciplinary artist. In previous projects, she has searched for and photographed every person mentioned by name in a German newspaper; worked with artists who are blind to re-create Brancusi's Sculpture for the Blind from a spoken description; and reconstituted a lost museum from a sketch found in an archive. She is the founder of An Artist Residency in Motherhood, a self-directed, open-source artist residency program that takes place inside the homes and lives of artists who are also parents. To date there are over 500 artists-in-residence in 37 countries. Clayton is also known for her ongoing series of Typewriter Drawings.
Recent exhibitions include Object Temporarily Removed (2017), at The Fabric Workshop and Museum in Philadelphia, Talking Pictures (2017) at The Metropolitan Museum of Art in New York, An Artist Residency in Motherhood (2018) at the Blanton Museum in Austin, and … circle through New York (2017) at the Guggenheim Museum in New York. Clayton was artist-in-residence at Headlands Center for the Arts in California (2017) and at The Fabric Workshop and Museum in Philadelphia (2014–2017). This year, with collaborator Jon Rubin she will be part of the Carnegie International with a project entitled Fruit and Other Things. Clayton lives and works in Pittsburgh, PA with her children Otto and Early.
RECOMMENDED READINGS
"Blind Copies: Lenka Clayton Captures the Rhythms of Everyday Life and Questions the Nature of Originality" (ARTnews)
"Circular Dislocation: An Interborough Exchange Program" (Art in America)
"Lenka Clayton, An Artist in Residence in Motherhood" (Creative Exchange)
Two short texts by Lydia Davis
ABOUT VACS
The UCCS Visiting Artists and Critics Series fosters understanding and appreciation of contemporary art through dialogue and critical conversations. Artists and scholars of national significance are invited to the University of Colorado Colorado Springs campus to present public lectures and meet with UCCS undergraduate students in classes and workshop settings. The Visiting Artists and Critics Series is a collaborative program of the UCCS Galleries of Contemporary Art (GOCA), UCCS Visual Arts and Art History (VAPA).
Made possible with generous support from the CU President's Fund for the Humanities, Colorado Creative Industries, and the Marie Walsh Sharpe Art Foundation Endowment
---
This event is co-presented with:
---
Thank you to our generous sponsors: