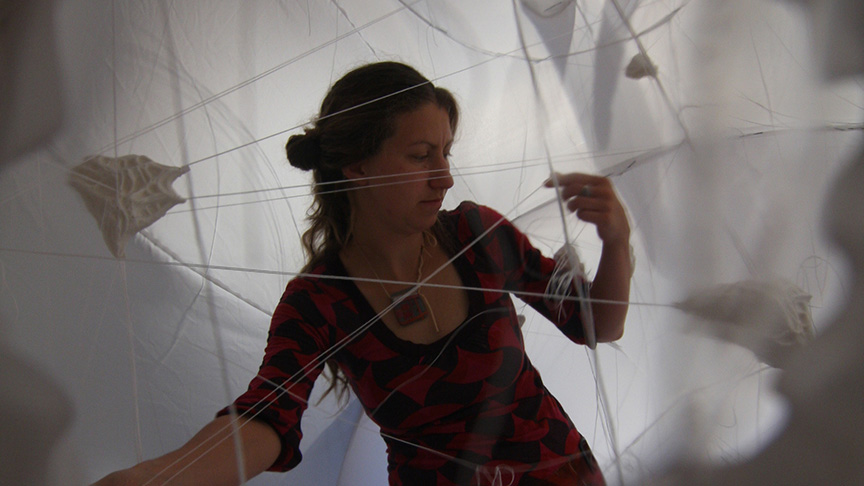 AWOL: NICOLE BANOWETZ
GOCA Downtown
---
OVERVIEW
Becoming More than One
through Fall 2016 - installed in the Plaza of the Rockies Atrium space
Nicole Banowetz is a Denver sculptor who makes sewn inflatable sculptures and delicate assembled forms. Banowetz created a monumental inflated installation for GOCA's AWOL: Art WithOut Limits program that premiered in advance of Brilliant 2016. Banowetz also created an innovative inflating wearable art piece for Brilliant's live ramp wearable art program on Saturday, June 25, 2016.
AWOL: Art Without Limits is a program of UCCS Galleries of Contemporary Art (GOCA) seeking new forums for discussion on art and culture through site specific installations, happenings and non-traditional exhibition spaces. Thanks to Nor'wood Development Group for support of this project, on display through summer 2016.
---
ABOUT THE ARTIST
Nicole Banowetz works as an artist in sculpture, design, installation, and education. She graduated from Colorado State University in 2004 with a BFA in sculpture. She has lived and worked internationally creating mosaic work in India and working and showing in Italy, Ireland, Russia, Germany and England. Nicole is currently a member of Pirate Gallery in Denver and has shown in the Biennial of the Americas, The Museum of Outdoor Arts, the Arvada Center, Ironton Gallery, and the Kreuzburg Pavilion. Nicole recently completed a residency at the Center for Creative Activities in Ustka, Poland a part of the Baltic Gallery of Contemporary Art's artist in residency program, the GlogauAIR artist in residency program in Berlin, as well as a residency at the Institut für Alles Mögliche. In 2016 she also lived and worked in Russia taking part in the NCCA Art Residence in Kronstadt. Nicole is currently completed an artist residency at the Children's Museum in Denver and preparing an installation for the Amsterdam Light Festival.