THE INVADERS: FILM SCREENINGS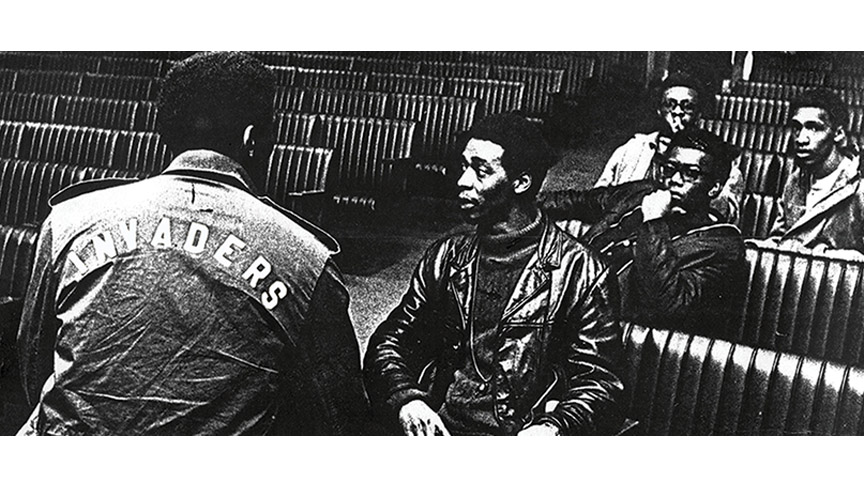 THE INVADERS: FILM SCREENINGS
February 4–April 1, 2017
GOCA Downtown
The Invaders (2015) | Running Time: 76 | Director: Prichard Smith | Producer: Craig Brewer | Cinematographer: Ryan Parker | Editor: Prichard Smith | Music: A. A. Khan.
Overview
---
Beyond inspired by militant black leaders like Malcolm X and Stokely Carmichael, a new, radicalized generation of civil rights activists made up of young college students, Vietnam vets, musicians, and intellectuals emerged in Memphis in 1967. The Invaders espoused Black Power and, when pushed, did not limit themselves to non-violence. Prichard Smith uncovers the history and significance of the often- overlooked group, detailing their surprising behind- the-scenes involvement with Dr. Martin Luther King, Jr. in the pivotal days leading up to his assassination.
ABOUT THE FILMMAKER
Prichard Smith is a documentary and commercial filmmaker based in Brooklyn. Smith studied at The University of Memphis, where he received a B.A. in communications with a concentration in film and video production. After relocating to New York in 2004, he began producing documentary content for Current TV. In 2007 he was hired by Monica Hampton (Producer Fahrenheit 911) to create content for Vice magazine's fledgling web channel VBS.TV. While there, he was responsible for editing two seasons of their popular shows Practice Space and Art Talk!, as well as shooting and producing various other content for the company. At the same time, Smith completed freelance work for Virtue Worldwide, where he edited short documentary projects and promotional pieces for various clients including Nike, Intel, and Dell. In 2010, Smith shot and edited "New Garage Explosion: In Love with These Times" a feature length documentary produced by Vice/Scion A/V about the growing DIY underground Garage Rock scene in the United States, featuring such artists as the late Jay Reatard, Black Lips and The Vivian Girls. Since working for Vice, Smith has edited Independent feature length documentaries as well as television shows for the Discovery, Nat Geo and the History Channel. In 2014, Smith edited the feature-length documentary, Killswitch, a film about the international fight for net neutrality, for which he won the James Lyon Award for 'Best Editing' at the 2014 Woodstock Film Festival. Currently he is working to complete his directorial debut The Invaders, a feature length documentary centered on a black power group from Memphis who were in negotiations with Dr. Martin Luther King minutes before his assassination, Executive Producer Craig Brewer (Hustle and Flow, Black Snake Moan).