Magical Personified Vulnerable
magical personified vulnerable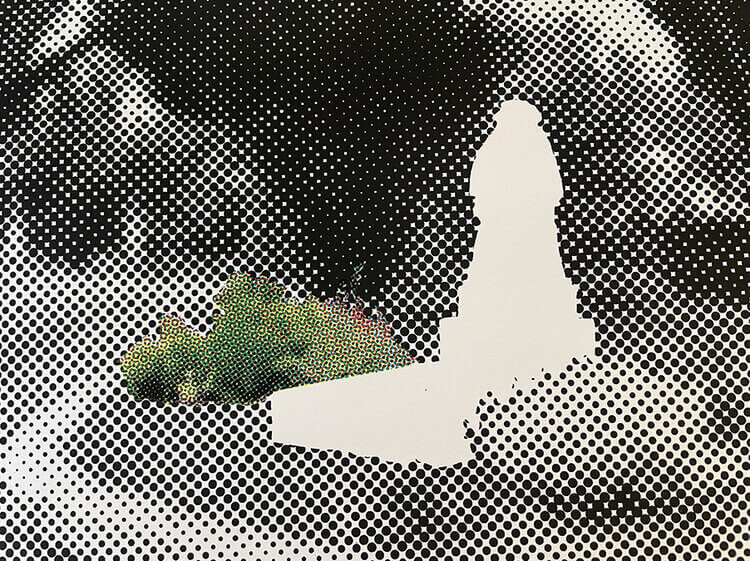 magical personified vulnerable
Chinn Wang
February 3 - April 17, 2022
Marie Walsh Sharpe Gallery, ENT Center for the Arts
---
ABOUT THE EXHIBITION
A solo exhibition by Colorado-based Chinn Wang will explore themes of invisibility, erasure, identity and the immigrant experience in her mixed media artworks. The artist shares, "As an attempt to better understand my family's history and my heritage, I am particularly interested in the visual expression of the tethered experience, in both life and death, that immigrants face as they seek to assimilate while also striving to maintain connections to their home cultures." The exhibition title, magical personified vulnerable, borrows from scholarly writing on geomancy - the practice of close observation and divination of the natural landscape for the selection of auspicious locations for burial, focusing on sites channeling vital energy. Geomantic strategies provide poignant metaphors for the artist's continuous discovery of her own source of vital energy, which she hopes will contribute to the perpetual formation and reformation of her malleable identity. Utilizing primarily photographic and print media, Wang seeks a non-passive viewing experience to compel a questioning of material, space, and image by highlighting the shifting balance between what is real and what is imagined. This exhibition will feature many new artworks premiering at GOCA's Ent Center for the Arts Marie Walsh Sharpe Gallery site.
BIO
Chinn Wang's work employs coded visual languages and symbolic iconography to examine, problematize, and humorize the subjective nature of personal narrative and history. Current interests include floriography, sacred symbols, fortune-telling, and moments of spectacle in popular culture.

Wang earned her MFA from the University of Wisconsin, Madison, and a dual BA in Art Practice and Art History from the University of California, Berkeley. She is Teaching Associate Professor and Foundations Coordinator in the School of Art & Art History at the University of Denver and lives in Boulder, Colorado.
---
IMPORTANT DATES
Exhibition on View:
February 3 - April 17, 2022
Special Events:
Visiting Artists & Critics Series Lecture + Opening Event
Thursday, February 3
Lecture: 5 - 6 p.m.
Reception 6 - 8 p.m.
Free, pre-registration requested
Gallery Hours
Thursday - Sunday, 1-7:30 pm or by appointment. 
As always, galleries are free to visit, pre-registration is welcomed but not required.