STYROBOT: NOTHING COMES FROM NOTHING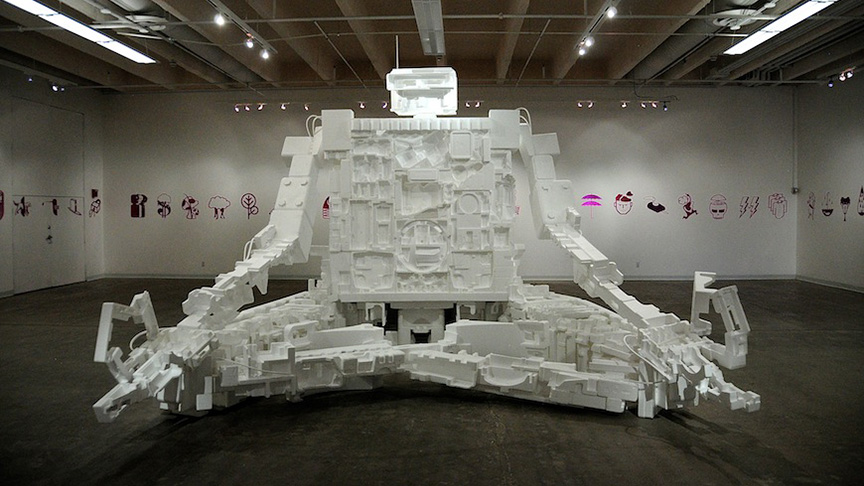 STYROBOT: NOTHING COMES FROM NOTHING
January 24–March 22, 2013
---
HAPPENINGS
Events are free, but space is limited—register to secure your spot.
About the Exhibition
---
STATEMENT
Every city and town has a street, never downtown, lined with strip malls, fast food, and discount stores. Here, I am inspired. It is the most prolific evidence of our current culture. As an obsessive observer I am fascinated, repulsed and hypnotized by the tidal wave of imagery that our visual culture crashes down upon us everyday. I challenge this onslaught and examine it. I want to sort out the cacophony of visual noise and rethink meaning, motive, perception and narrative. In the middle of this infinitely chaotic flow of information, I have a nagging desire, the desire for truth and beauty. Images, moments, situations, spaces, and environments can be so coldly anonymous and at the same time so loaded with meaning. The closer I look the stranger it all becomes. Nothing is as it seems. In a world where mind numbing volumes of stimuli assault my consciousness and elevate my anxiety, I seek peace and clarity. My work is an attempt to slow down, sort out, and focus information. The seemingly simple, runs away from me so fast, and leaves a cloud of dust so thick, I have to stop and wipe my eyes. - Michael Salter
BIOGRAPHY
Michael Salter was born in Bristol, Connecticut in 1967. He received a BFA in sculpture and graphic design from Miami University, Oxford, Ohio in 1992, and an MFA in studio art from the University of North Carolina, Chapel Hill in 1994. Solo exhibitions include VISUAL PLASTIC, New Britain Museum of American Art, Connecticut (2012), IF YOU DON'T BUY IT FROM US, ITS NOT OUR PROBLEM, Think.21 Gallery, Brussels, Belgium (2009), TOO MUCH, Rice University Art Gallery, Houston, Texas (2008) and Visual Logistics, The University of Texas, Arlington (2006). In 2007, Salter created a 22-foot tall Styrobot for Robots: Evolution of a Cultural Icon, a group exhibition at the San Jose Museum of Art, California.
Michael Salter is Associate Professor of Digital Arts and Director of the Digital Art Program at the University of Oregon, Eugene.
About the exhibit:
For his site-specific installation at GOCA1420, Michael Salter has combined two bodies of work - icons and styrobots - resulting in a singular spatial dialogue. Salter created the sculpture in response to both the size and shape of UCCS' campus gallery and used donated polystyrene (styrofoam) packing materials to create this original work.
The artist has created over 20 styrobots in museums and gallery spaces around the world over the past decade; over the same time period he has designed and drawn a vast collection of graphic icons. Inspiration for both bodies of work come from encounters with and observations of contemporary culture, including our consumer culture.
A note on the project:
GOCA collected polystyrene packing material from the community over the past year to realize this project. We are collaborating with UCCS' Office of Sustainability to recycle both the "waste" material and the sculpture itself at the closing of the exhibit. It is our hope to recycle 100% of the styrofoam collected and to raise awareness around sustainability issues both on our campus and in the community. Thank you to everyone who donated material for this installation!