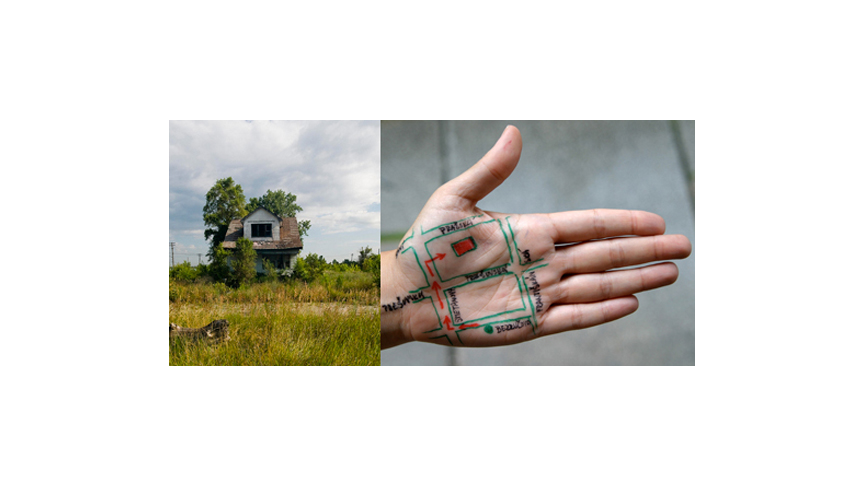 WAYS OF KNOWING: PART 2
October 21-December, 2011
James Griffioen, Rori Knudtson, Laleh Mehran, Yumi J. Roth
---
ABOUT THE EXHIBITION
Ways of Knowing explores the paths we take and methods we use in defining and experiencing place. Place is an amorphous entity: hard to define because it is personal, comprised of memories, mapping points, and cultural cues.
Four artists individually interpret their notion of place from diverse viewpoints: James Griffioen documents the metamorphosing urban landscape of Detroit, Michigan, through large-format photography; Rori Knudtson attempts to reconcile intimacy with the vast Arctic landscape through video, photography and installation; Laleh Mehran navigates the personal and political experiences of two opposing and merging cultural terrains through a site-specific project; Yumi J. Roth investigates our definitions of location and security through materials and installation.
PLACES, an eight-week lecture series related to the exhibit, features sixteen speakers including the four Ways of Knowing artists. Click here for more information.
In 2006, James Griffioen walked away from a career as a securities lawyer at a large San Francisco law firm and moved his family to downtown Detroit, where he no longer practices law but instead spends his days taking care of his two children and taking photographs. He publishes a blog about his life in Detroit called "Sweet Juniper". His photos have appeared in Harper's, Vice, Time, Fortune, New York, Republic (Sweden), Foam (Netherlands), The Baffler, Landscape Architecture and many other publications. He has been featured on America Public Media's The Story, the BBC's Americana, CBC's Arts Program Q, NPR's On the Media and CNN as well as The Chicago Tribune, The Wall Street Journal and The Washington Post. He is graduate of Western Michigan University and the University of Michigan Law School.
Yumi J. Roth was born in Eugene, Oregon and raised in Chicago and suburban Washington, D.C. She currently lives and works in Boulder, Colorado, where she is a professor of sculpture at the University of Colorado. Roth has created a diverse body of work that includes discrete objects and site-responsive installations, solo projects, and collaborations. Many of her recent works explore ideas of moving, modifying direction, or searching for place, while also demonstrating an interest in issues of material and labor. She received a BA in anthropology from Tufts University, a BFA from the School for the Museum of Fine Arts-Boston, and an MFA from the State University of New York-New Paltz. She has exhibited nationally and internationally, with shows in New York (Bronx River Art Center, Sara Meltzer Gallery), San Francisco (Limn Gallery), Portland (Institute of Contemporary Art), Houston (Lawndale Art Center, Diverseworks), Boston (New Art Center), Denver (Rule Gallery, Center for Visual Arts), Minneapolis (Soap Factory), Milwaukee (Institute of Visual Arts), Santa Fe (Museum of Fine Arts), Seattle (Consolidated Works, Mexico (Arcaute Arte Contemporaneo, La Galleria Rufino Tamayo), the Phillipines (Ayala and Vargas Museums), Colombia (Universidad Nacional de Colombia), and the Czech Republic (Galerie Klatovy-Klenova, Institute of Art and Design-Pilsen).