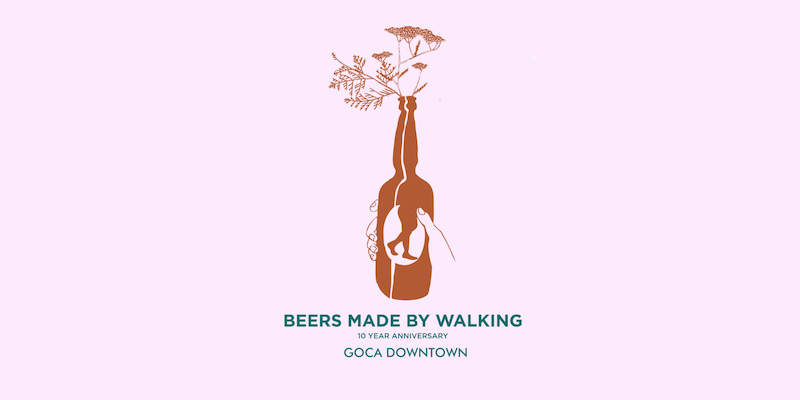 Beers Made By Walking
---
ABOUT THE EVENT
In 2011, UCCS Galleries of Contemporary Art (GOCA) commissioned artist Eric Steen to launch the first Beers Made By Walking— a program that invites brewers to go on nature hikes and urban walks and make new "place-based beers" inspired by plants from the trail. Since then, Steen has worked with hundreds of breweries. In 2021 GOCA brought Beers Made By Walking back for a 10th anniversary event. Four Colorado Springs brewers joined us at Sondermann Park for a hike, led by Catamount Institute. On June 4, the four breweries will share their new hike-inspired beers at a special event tasting at GOCA downtown. Limited tickets available - get yours today!
Ticket Price: $25 + small processing fee
The ticket includes: 4 beer tastings per person, a special glass, and light hors d'oeuvres
Participating breweries: Atrevida Brewing, Cerberus Brewing, Goat Patch Brewing, and Local Relic Artisanal Ales.
About the Pop-Up Exhibition
Beers Made By Walking: 10 Years features the photography of Colorado-based artist Daniel Flanders. Over the past decade, Flanders has documented the first and most recent hikes, and many in between. A First Friday reception for the pop-up exhibition will take place on June 3, 5 - 8 p.m. and the art will be on view for the June 4 tasting event. A pre-event talk with Eric Steen and Daniel Flanders will take place at 2 pm on Saturday, June 4, and is open to the public. The tasting events require tickets to attend. 
About Beers Made By Walking
Beers Made By Walking is a program that invites people to step outside and see the place they live in a new light. The recipe: inviting local brewers to take nature walks and make beer inspired by the plants identified on the trail, and inviting the community join in the hike and the tasting event. Since 2011, Beers Made By Walking has worked with more than 200 breweries throughout the country. The hiking and tasting events act as educational programs for institutions and environmental organizations in the region where the program takes place.
About the artist
Eric Steen is an artist, beer industry marketing professional, and an award winning teacher. He has organized numerous artisanal "place-based beer" events for art festivals and museums including Art & Beer, which invites breweries to make beer inspired by art in local art museum collections. He is the founder of Beers Made By Walking, a program that works with commercial brewers to make beer inspired by nature hikes. His work has been exhibited at: Performa Festival and the Food Book Fair in New York City; Glasgow International Festival of Visual Art in Scotland; Urban Culture Project Kansas City; UCCS Galleries of Contemporary Art in Colorado Springs, Design Week Portland and the Portland Art Museum in Oregon; and his work has been created independently with hundreds of breweries and dozens of environmental organizations around the country. In 2015 Imbibe Magazine named Eric as one of the top 75 people who will change the way you drink.
Photos below by photographer Daniel Flanders, from the 10 year anniversary hike of BMBW series in fall 2021.
---
IMPORTANT DATES
Beer Tasting Event: Saturday, June 4, 2022
2 - 3 p.m. - Talk with Eric Steen & Daniel Flanders
3 - 4:30 p.m. - Beer Tasting Event
@GOCA Downtown, Plaza of the Rockies, 121 S. Tejon, Suite 100, 80903
First Friday Pop-Up Exhibition: Friday, June 3rd, 2022, 5 p.m. - 8 p.m.
Beers Made By Walking:
Photography by Daniel Flanders
@GOCA Downtown, Plaza of the Rockies, 121 S. Tejon, Suite 100, 80903
As always, galleries are free to visit.