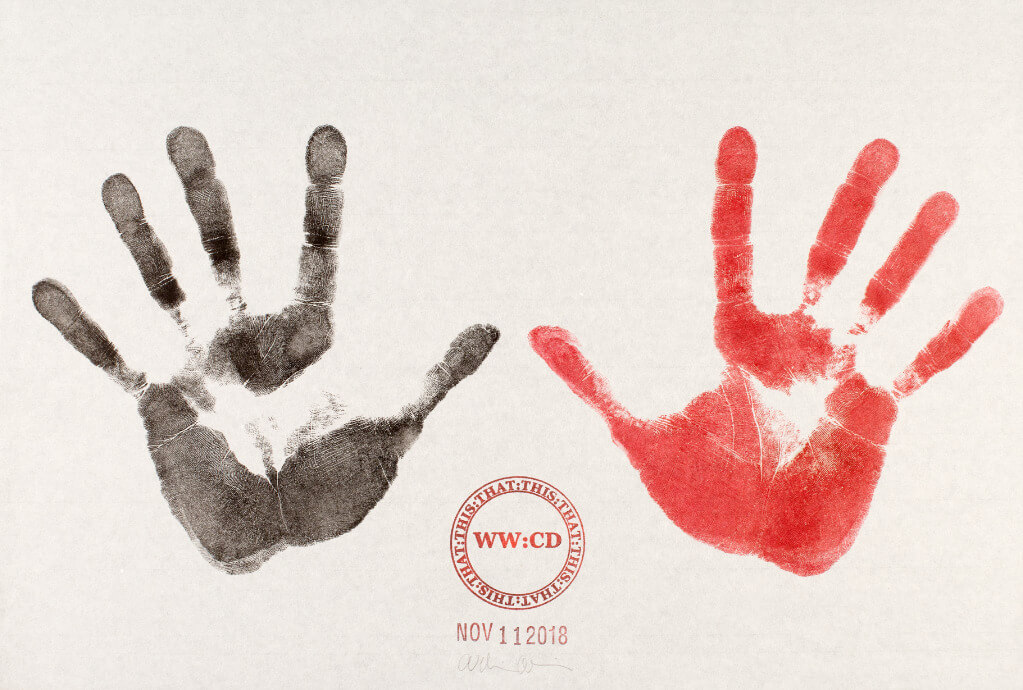 THIS:THAT
William Wylie and Corey Drieth
GOCA Downtown
September 3 - 24, 2021
Opening Friday, September 3, 5 - 8pm
---
ABOUT THE EXHIBITION
In 2017 Corey Drieth and William Wylie visited a retrospective exhibition of Italian conceptual artist Alighiero e Boetti (1940-94) in Venice, Italy. One room of the exhibit paid homage to Boetti's multivalent use of copies in his artmaking and included a photocopier where visitors were invited to participate in Boetti's approach by making their own copies on red paper. Inspired by Boetti's collaborative spirit, and by his inventive use materials, Drieth and Wylie decided to start a year-long, collaborative art making game.  As a point of departure, they made an eleven-page score on the photocopier using their fingers to create a pattern of red notations. Those notations became the starting point for a project that was made over the course of 2018, a body of work that consists of 22 pieces (11 for each artist), all referencing  Boetti's practice and their original score. This project is entitled THIS:THAT.
---
BIOS
William Wylie is the Commonwealth Professor of Art at the University of Virginia. Over the past thirty years his work has explored the intersection of space, time and structure through photography, video and works on paper. He has published six books of his photographs, Riverwalk (2000), Stillwater (2002), Carrara (2009), Route 36 (2010), Pompeii Archive (2018) and A Prairie Season (2021). His photographs and short films have been shown internationally and can be found in the permanent collections of the Metropolitan Museum of Art, National Gallery of Art, Smithsonian American Art Museum and Yale University Art Museum. He lives in Charlottesville, VA.
Corey Drieth is an artist based in Colorado Springs, CO. His work explores religion, iconography and contemplative practice. He is currently a Professor of Painting and Drawing at the University of Colorado, Colorado Springs (UCCS) and is co-founder of the Female Emerging Artist Residency Series (FEARS) there. Prior to this position, Drieth taught studio art classes at Colorado State University, the University of North Carolina, Chapel Hill and the University of Virginia. His work has been exhibited throughout the country, including in San Francisco, Denver, Albuquerque, New Orleans, Chicago, Washington DC, and New York City.
---
IMPORTANT DATES
Exhibition on View
September 3 - 24, 2021
Special Events
First Friday Opening Event: Friday, September 3, 5 - 8pm.
Gallery Hours: Friday - Sunday, 12 - 6pm or by appointment.
As always, galleries are free to visit. Pre-registration is welcomed but not required.