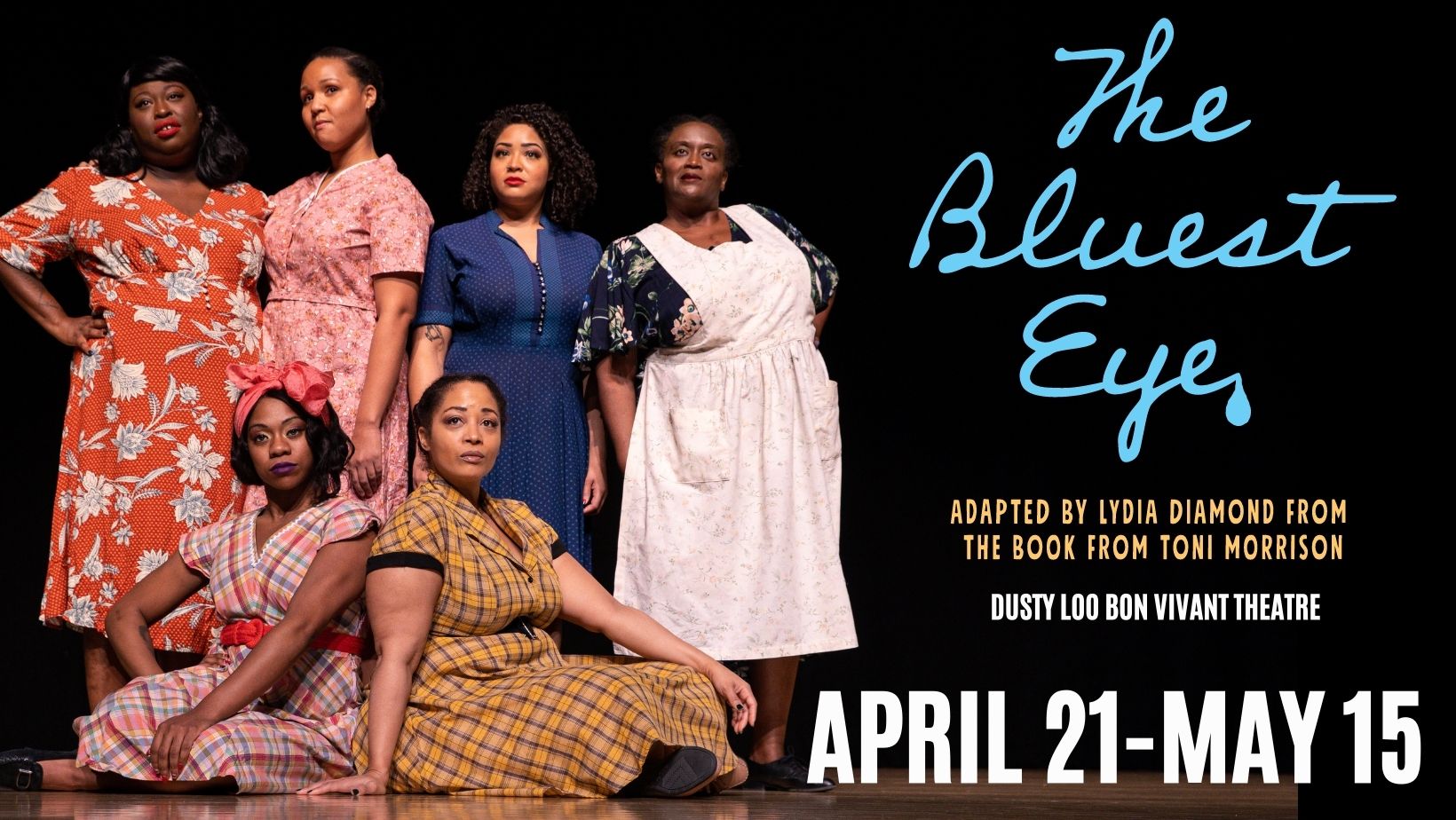 ---
The Bluest Eye
Directed by Lynne Hastings, written by Toni Morrison, adapted by Lydia R. Diamond
April 21, 2022- May 15, 2022
What does beauty mean to someone who doesn't have it?
Nobel Prize and Pulitzer Prize-winning author Toni Morrison's The Bluest Eye is a story of a community of young Black women, growing up in a world that is not always kind to them. In 1940s Ohio, sisters Claudia and Frieda befriend Pecola Breedlove, who struggles both in her home life and her place in the wider world, with devastating consequences. With rich language and bold vision, this story examines standards of beauty, young Black women's comings of age, and the difficulties they work to surmount in unforgiving circumstances.
*UCCS students receive free admission to all Theatreworks productions. Contact the Box Office with your student ID number handy to receive your complimentary ticket.
---
---
*Content Advisory: This production contains representations of domestic and racialized violence, rape, and incest, as well as alcoholism and substance use. As every person is different, we do not usually offer age recommendations; however, we are always happy to talk with you if you have specific questions. Please email Lily DiSilverio at ldisilver@uccs.edu with questions.
---
Cast (in alphabetical order):
| Cast | Role |
| --- | --- |
| Alex Campbell | Claudia |
| Calvin M. Thompson* | Cholly Breedlove |
| Cheerish Martin | Maureen Peal/White Girl Performing Claudia (final weekend) |
| Desiree Myers | Pecola |
| Faith Angelise Goins* | Frieda/Darlene Understudy - Pecola |
| Kennedy Reilly Pugh | Soaphead Church |
| Lisa Young | Mrs. Breedlove |
| Raj Dulari | Mama |
| Kala Roquemore | Performing Maureen (final weekend), Understudy -Freida |
---
Artistic Team:
| Crew | Role |
| --- | --- |
| Lynne Hastings | Director |
| Garth Mortiz* | Stage Manager |
| Skylar Campbell | Assistant Stage Manager |
| Jordan Hermitt | Costume Designer |
| Taylor Lilly | Lighting Designer |
| Michael Ruiz-del-Vizo | Scenic/Props Designer |
| CeCe Smith | Sound Designer |
| Seth Alison | Lighting Supervisor |
Dramaturgy by UCCS Dramaturgy under the guidance of Dr. Max Shulman
*Asterisk notates member of Actor's Equity Association or the United Scenic Artists, Local USA 829 union.
---
Join the Conversation
Opening Sunday Framing Panel
Sunday, April 24th, 2:30 - 3:30p in the Dusty Loo Bon Vivant Theatre
Join us before the first Sunday performance for a panel with director Lynne Hastings and members of the Wa Shonaji Quilt Guild to discuss the tradition of quilting in Black American Communities in context with the show and the scenic design.
Community Conversations
Saturday matinees following the show on April 23, April 30, May 7, and May 14
Join other members of the audience and artists from Poetry719 who will compose poetic responses to the play and open the floor for broader conversations about the vital themes of The Bluest Eye.
Thursday Pre-Show Scholar Chats
Thursdays from 6:45-7:15p in the Murray and Betty Ross Lobby
Join us before the show on Thursdays for informal discussions with artists, designers, librarians, and Black scholars to discuss themes of the play, Toni Morrison's work, and the artistic process.
April 21: Designer Chat
April 28: Melissa Mitchell speaks on banned books
May 5: Durthy Washington speaks on Toni Morrison
May 12: UCCS Librarians speak on banned books
Artist Talks
2nd and 3rd Sunday matinees after the show, May 1 and May 8
Stay after the show on Sundays to hear from our actors about their artistic process, and the experience of working on The Bluest Eye.
---
Information & Current Policies Regarding COVID 
Currently, masking is optional when entering the building, visiting the gallery, attending classes, and for select performances. Masking is still required for some Theatreworks productions, including The Bluest Eye, due to our affiliation with Actor's Equity Association. This is for your own safety, as well as the safety of our professional cast and crew.
At this time, we are not requiring proof of vaccination from audience members. Please check the website for updates as we endeavor to keep up with the growing and changing demands of Covid safety measures. Also, questions about the masking policy for any Ent Center for the Arts performance can be directed to our box office at 719-255-8181.