The Mitten: A Midwinter Puppetry Fable
THE MITTEN: A MIDWINTER PUPPETRY FABLE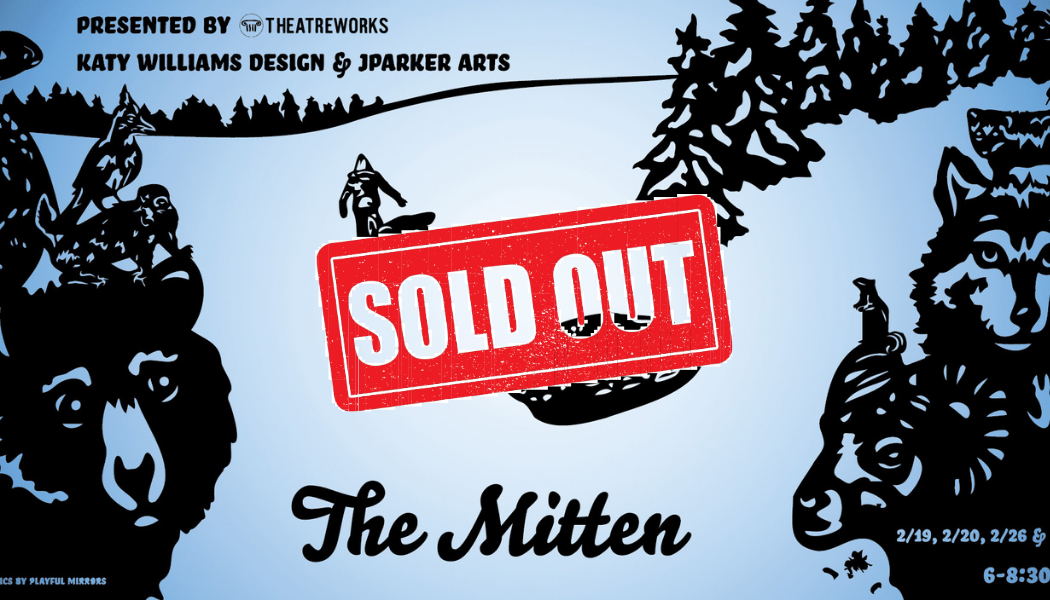 THE MITTEN: A MIDWINTER PUPPETRY FABLE
February 19-21,  2021
February 26-28, 2021

A co-production of Theatreworks, Katy Williams Design and JParker Arts
---
Theatreworks, JParker Arts, and Katy Williams Designs are collaborating to bring the Pikes Peak Region a winter wonderland of a show unlike any they have ever seen, just in time to uplift those winter blues, a delightful retelling of the Ukrainian folktale THE MITTEN, about a lost present and a troupe of delightful animalism now set in Colorado!
Safely masked audience members will convene in groups of no more than twelve for a unique outdoor experience, lasting 35 minutes. Each group will move around the Ent Center for the Arts, experiencing the story in multiple stations told across the windows of the building. 
Time slots begin every 15 minutes between 6 and 8:30pm each date. Because of the small group nature of this outdoor event, show times will start promptly.  
Tickets are $10 for adults and $7 for youth.
*UCCS students receive free admission to all Theatreworks productions.
Contact the Box Office with your student ID number handy to receive your complimentary ticket.
The Mitten preview from THEATREWORKS on Vimeo.
Accessibility advisory: this production takes place around the exterior of the Ent Center (map here). Audiences will move from station to station. The path is fully wheelchair accessible, 90% paved with a short gravel section. While a few chairs will be available at each station, this is not a seated event. Patrons who do not use a wheelchair should be prepared for 30 minutes of standing or walking.
The Mitten content advisory: This production contains animals, knitting, and skunks.We have created it for all ages. Because everyone is different, we are always happy to talk with you if you have specific questions. Please email clowans@uccs.edu
---
ABOUT THE ARTISTS

KatyWilliamsDesign and  Julie Parker bring this delightful midwinter tale to life through shadow puppetry. They designed and mocked up over 60 puppets to bring these Colorado creatures to life.
Katy Williams is a Denver based creator that specializes in building and teaching puppets, props, and makeup design.
JParkerArts works in many media from puppets to costuming, each project is a unique creation utilizing found and recycled materials.
Many thanks to Sean Schafer Hennessy who composed 30 minutes of music for this production.
---
Artistic Team:
Designer/Director........... Julie Parker
Designer/Director .......... Katy Williams
Script Writer .................. Caitlin Lowans
Composer ..................... Sean Hennessy* 
Graphic and Puppet....... Design Melanie Bindon
Stage Manager............... Rihana President
Lead Puppeteer ............. Cyndi Parr* 
Puppeteer....................... Eli Atkins*
Puppeteer....................... Aranxta Chavez*
Puppeteer ..................... Sara Gosses
Puppeteer...................... Hunter Martin* 
Puppeteer ..................... Gilbert Noel Jr*
Puppeteer ..................... S.B. Parks
Puppeteer ..................... Salvador Placensia*
Puppeteer ..................... Marcelina Ramirez*
*Denotes UCCS student, alumni, staff, or faculty 
---
Many thanks to The Mitten "Behind-the-Scenes Team" Sponsors: Becky and Jon Medved