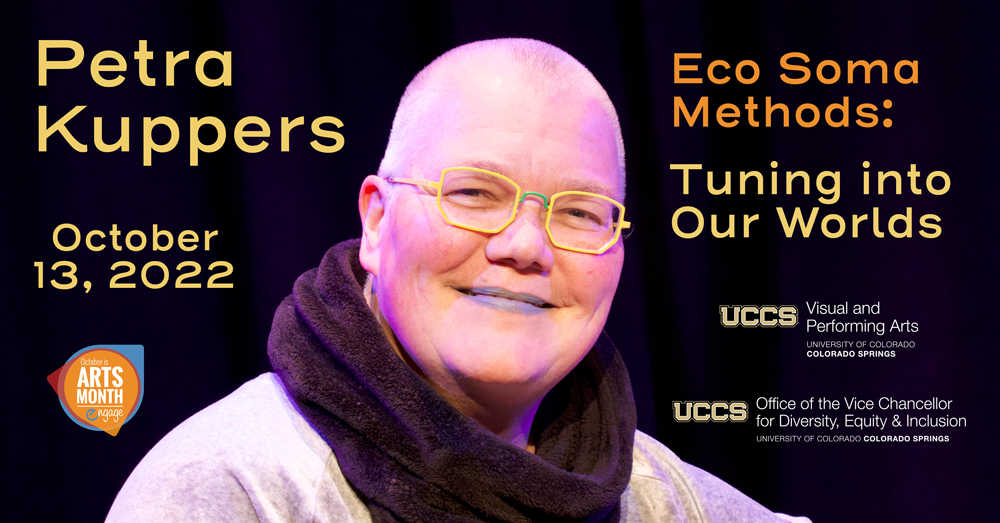 PETRA KUPPERS
ECO SOMA METHODS: TUNING INTO OUR WORLDS
Osborne Studio Theater
Thursday, October 13, 2022
7pm

REGISTER HERE
 
---

Petra Kuppers, Ph.D., Anita Gonzalez Collegiate Professor of Performance Studies and Disability Culture at the University of Michigan and artistic director of The Olimpias and co-director of Turtle Disco, will explore contemporary performance from the perspective of co-experienced embodiment in unequally distributed power fields. Most traditional somatics teach us how to fine-tune our introspective senses and to open up the world of our own bodies, while eco soma methods extend that attention toward the creative possibilities of the reach between self, others, and the land. Eco Soma proposes an art/life method of sensory tuning to the inside and the outside simultaneously, a method that allows for a wider opening toward ethical cohabitation with human and more-than-human others. Using both video examples and participatory exercises, let's explore together what this can mean for us as witnesses of our own lives.

Sponsored by the Division of Vice Chancellor of Diversity, Equity and Inclusion.

Open to all. Limited seating, please register now! For more information contact Max Shulman at mshulman@uccs.edu.
 
---