PEAK FREQUENCY PRESENTS: SONLINGUA ENSEMBLE
PEAK FREQUENCY PRESENTS: SONLINGUA ENSEMBLE - FERTILE WORDS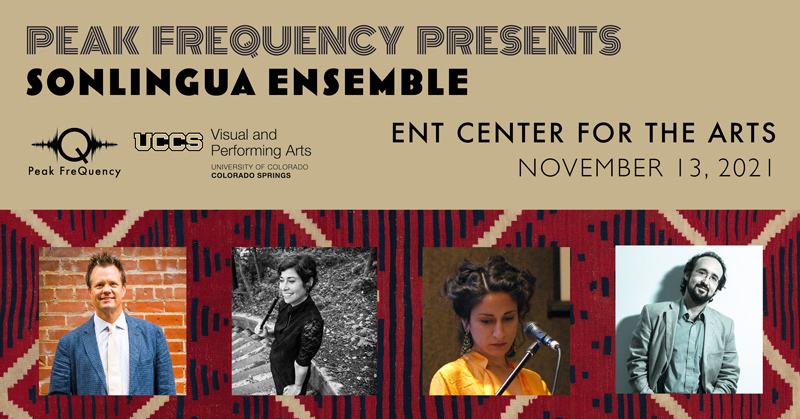 Chapman Foundations Recital Hall
Saturday, November 13 | 7:30pm
---

The SonLingua Ensemble's "Fertile Words" marks the debut of the Colorado Springs-based ensemble (Jane Rigler, flutes; Colin McAllister, guitar; Haleh Abghari, voice; Andrés Carrizo, (piano and composition) and its collaborative work with Indigenous American poets writing in their native languages. The ensemble will premiere three new movements composed by Carrizo for the ensemble, whose texts consist of poems written by poets Mikeas Sánchez (Chiapas, Mexico) and Sabino Esteban (Guatemala).

One of the ongoing effects of colonialism in the Americas is the relentless linguistic assimilation suffered by Indigenous groups. Many Indigenous languages are endangered, due to the lack of educational opportunities afforded these groups in their native tongues. In light of this, there are several Indigenous American poets who write poetry in their native language, as both a gesture of defiance and a means of preservation.

The program will also include works by György Kurtág, George Benjamin, Iddo Aharony (Assistant Professor of Composition, Colorado College), Stuart Saunders Smith, and Navajo Nation member, Sound Artist/composer Raven Chacon.

UCCS students receive free admission. To reserve your ticket contact the Ent Center Box Office at 719-255-8181 or tickets@uccs.edu. Tickets are $10, $8 seniors and military. For more information contact Glen Whitehead at gwhitehe@uccs.edu.

---