PEAK FREQUENCY PRESENTS: ON THE NEXUS OF...
PEAK FREQUENCY PRESENTS: ON THE NEXUS OF...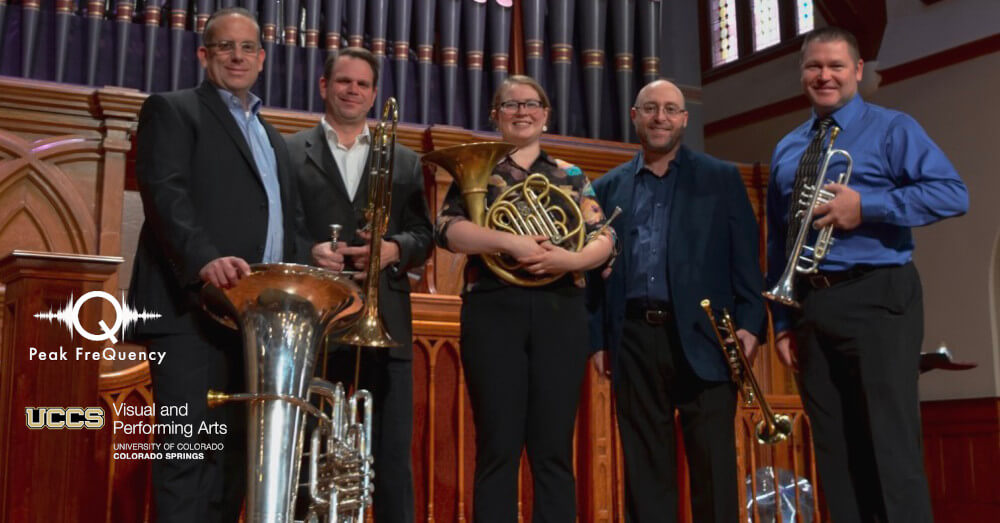 ---
Shockley-Zalabak Theater
Live Concert
Friday, May 14, 2021 | 7:30pm
 
Featuring Nexus Brass Quintet, members of the UCCS Student Brass Quintet and regional brass professionals. Colorado Spring's premiere brass quintet, Nexus Brass, will perform works by Ken Amis, Jennifer Higdon, Anthony Dilorenzo, Jon Forshee, Michael Giachinno, Michael Kamen and more. Large Ensemble pieces include "O Magnum Mysterium" by Morten Lauridsen, "Fnugg Blue" by Øystein Baadsvik, and "Svein H.Giske" featuring Timothy Hoffman on tuba.

Nexus Brass Quintet
Tim Allums, trumpet
Glen Whitehead, trumpet
Gerald Welker, french horn
Bron Wright, trombone
Timothy Hoffman, tuba

From UCCS Student Brass Quintet
Dr. Jon Forshee, tuba (faculty director)
Garrison Syling, trumpet
Sebastian Melendez, French horn  
Jesse Nordeen, trombone

Trumpet - James Lind, David Zuercher
French horn – Aaron Erlandson, Kelsie Mculum,
Trombone – Bruce Blumquist, Ryan Vangilder
Euphonium – Renee Rudderow
Drums - Brian Rousse

UCCS students receive free admission. To receive your complimentary ticket contact the Ent Center Box Office at tickets@uccs.edu. General admission tickets are $12, military and seniors are $10. For more information contact Glen Whitehead at gwhitehe@uccs.edu or Jane Rigler at jrigler@uccs.edu.
---