PEAK FREQUENCY PRESENTS: PHILIP BLACKBURN
PEAK FREQUENCY PRESENTS: PHILIP BLACKBURN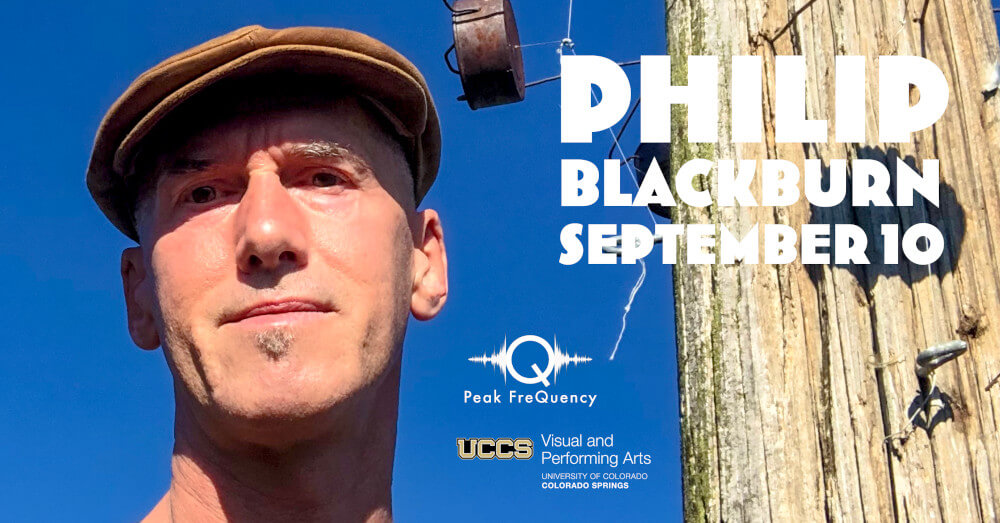 Chapman Foundations Recital Hall
Friday, September 10 | 7:30pm
---

Philip Blackburn - laptop, guitar
Glen Whitehead - laptop, guitar
Jon Forshee - laptop
Jane Rigler - laptop

The UCCS Music Program welcomes visiting composer Philip Blackburn who will be working with composition and performance students as well as present a concert of his music. Mr. Blackburn is a good friend of the UCCS Music Program having been a guest several times in the past. He created a hyperopera (multi-media, interactive site-specific theater) – The Sun Palace (2012) at UCCS based on the early history of Cragmor Hall as a sanitorium. He also installed wind harps at the Heller Center for the Arts that continue to sound to this day.
Philip Blackburn PhD, born in Cambridge, England, is a public artist specializing in sound — a composer/environmental sound-artist. He is currently the director of the renowned Neuma record label. He studied music at Cambridge University and at the University of Iowa with Kenneth Gaburo. Blackburn's works have been heard in ships' harbors, state fairs, forests, and coming out of storm sewers and ancient cisterns, as well as in galleries, parking lots, and on concert stages. He has incorporated brainwave sensors and dowsing rods in performance as well as plants, balloon flutes, conch shells, car horns, and wind-powered harps.

"I seek the resonance of a place, and advocate for being more aware of our sounding environment. Ultimately this may lead to better choices about how we live on the planet and with each other…." Mr. Blackburn's father, Alexander Blackburn, is a Professor Emeritus in English at UCCS.

UCCS students receive free admission. To reserve your ticket contact the Ent Center Box Office at 719-255-3232 or tickets@uccs.edu. Tickets are $10, $8 seniors and military. For more information contact Glen Whitehead at gwhitehe@uccs.edu.. For more information contact Glen Whitehead at gwhitehe@uccs.edu.

---