PEAK FREQUENCY PRESENTS: RE-ASSEMBLED AND EMBODIED
PEAK FREQUENCY PRESENTS: RE-ASSEMBLED AND EMBODIED - FLUTE MUSIC BY WOMEN IN PARALLEL EMPIRES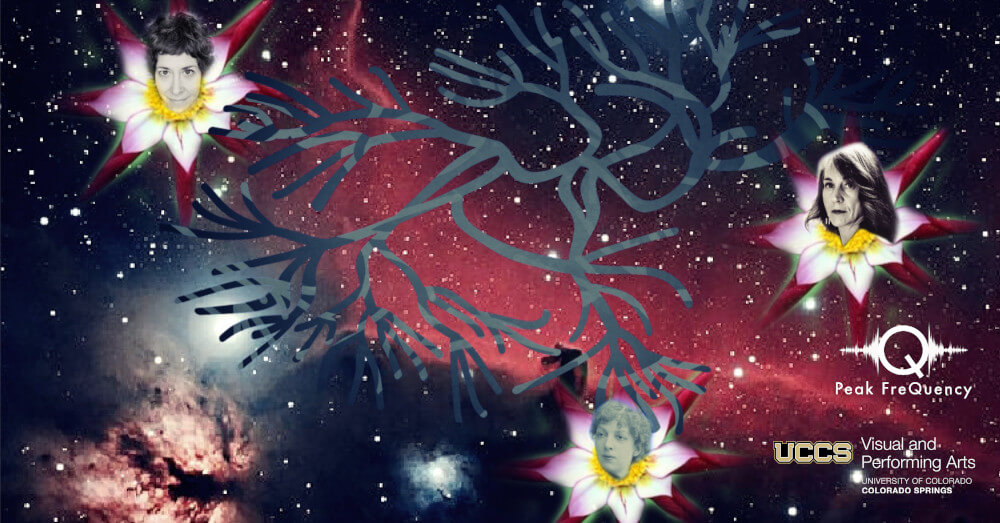 ---
VIRTUAL VIDEO PREMIERE
SATURDAY, MAY 22, 2021 | 6:00PM
 
Join Jane Rigler and Tessa Brinckman on an interstellar voyage towards May 22, 2021. We'll transport you to places we have always been: into the aquatics of our cells, nerves and bones— as we journey to the constellation of our stars, and dive into the work of Cecile Chaminade. Experience a live/recorded processing of flutes, and other objects, visual and trans-sonic hallucinations. It's us, it's her, it's you, re-imagined.

This duodramatic performance-installation (funded by the University of Colorado, Colorado Springs Faculty Assembly Women's Committee grant 2020-21) reassembles and reclaims a piece from the past (Sérénade aux étoiles by Cecile Chaminade) to address current cultural/economic crises of extraction vs. relationship, and our bonds to "empire." What does it mean to serenade to, and not extract from, the stars?

This virtual event is free and you can stream it anytime after May 22nd. For more information contact Glen Whitehead at gwhitehe@uccs.edu or Jane Rigler at jrigler@uccs.edu.
 
---