PEAK FREQUENCY PRESENTS: STEPH RICHARDS
PEAK FREQUENCY PRESENTS: STEPH RICHARDS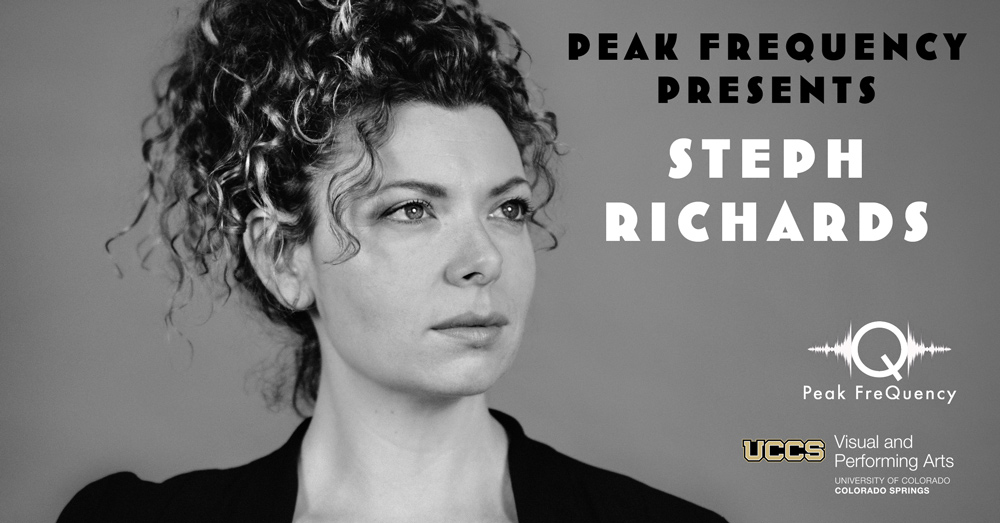 Chapman Foundations Recital Hall
Friday, November 5 | 7:30pm
---

Composer and trumpet artist Steph Richards visits the UCCS music program to work with student composers and performers. This concert features works by Richards featuring the student ensemble Instrumental and Vocal Laboratory directed by faculty member Haleh Abghari  as well as faculty members trumpeter Glen Whitehead, and tubist Jon Forshee.
 
 "A rising force in avant-garde jazz" (Jazz Times), trumpeter, composer and bandleader Steph Richards is regarded as an adventurous innovator in the scene of creative music. Driven by a curiosity of how listeners interact with music and what sensory variables are open to experimentation, her openness to new ideas has led her to work with pioneering artists across a wide musical field from creative musicians Henry Threadgill and Anthony Braxton to pop icons Kanye West, David Byrne and Yoko Ono. Steph Richards grew up in Calgary, Alberta and eventually found her way to Brooklyn, NY where she became embedded in the NYC creative music scene. While there she has worked with prominent jazz musicians Jason Moran, Ravi Coltrane and Dave Douglas.  The New York Times called Richards "an emerging maestro" whose compositions have explored interactions of scent, movement, Conduction, video and site-specific locations ranging from carousels to underwater pools. She is also collaborative in the contemporary music scene as a founding member of Bang on A Can's Asphalt Orchestra and performs with star contemporary ensembles such as the International Contemporary Ensemble. Richards is on faculty at UC San Diego and is a Yamaha Artist.

"Listening through Steph's music can feel like scrolling through an extravagant special effects library, one uniquely attuned to the human condition as well the remarkable expanse of music that makes up avant garde and experimental Jazz. Sounding like everything from a synthesized Louis Armstrong to whales barking at the moon, Steph has created a sonic palette contoured perfectly to the bands she leads, as well as the internationally renowned artists she collaborates with. Working with everyone from Henry Threadgill, Anthony Braxton, and John Zorn, to Yoko Ono, David Byrne and electro-pop star St. Vincent, Steph consistently finds ways to fit into music that often defies acceptable norms within a variety of traditional musical landscapes. Benefiting from a versatile technical toolset, fluid musical imagination, and ingenuity, Steph is delightfully indiscriminate when it comes to exploring the vast tonality of music she entertains." --Kevin Whitehead, NPR's Fresh Air

UCCS students receive free admission. To reserve your ticket contact the Ent Center Box Office at 719-255-3232 or tickets@uccs.edu. Tickets are $10, $8 seniors and military. For more information contact Glen Whitehead at gwhitehe@uccs.edu.. For more information contact Glen Whitehead at gwhitehe@uccs.edu.
---