PEAK FREQUENCY PRESENTS: PIANIST AMY WILLIAMS
PEAK FREQUENCY PRESENTS: PIANIST AMY WILLIAMS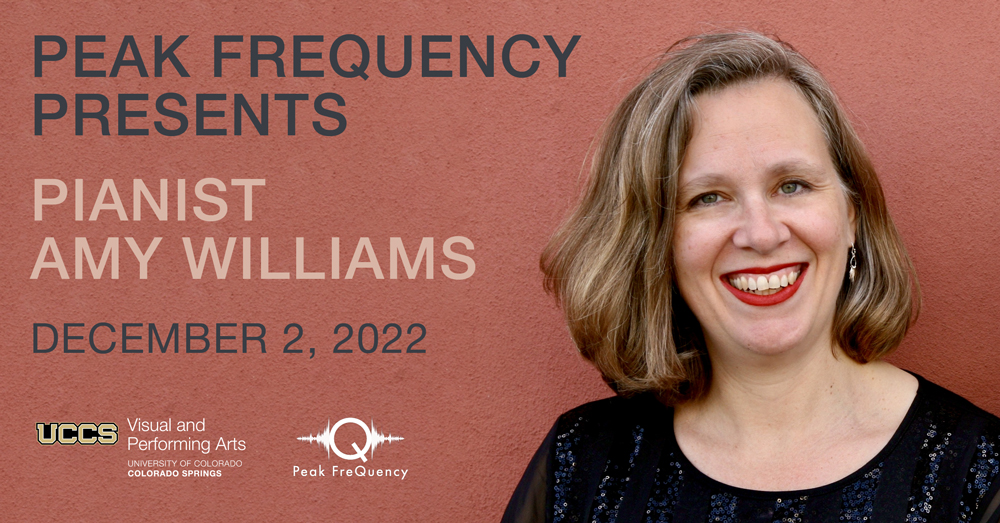 Chapman Foundations Recital Hall
Friday, December 2, 2022
7:30pm-9pm
---

Lasting just over an hour, John Cage's groundbreaking Sonatas and Interludes (1946-48) is made up of 20 short pieces: 16 sonatas and 4 freely structured interludes. There are dozens of screws, bolts, pieces of rubber, coins, strips of plastic, that are inserted into the strings of the piano to create sounds that are reminiscent of percussion instruments (gongs, woodblocks, cymbals). The unique prepared sounds—sometimes combined with unprepared notes—create a breathtaking array of colors.
The influence of Cage's invention is still felt 70 years after the premiere and will be reflected in new works by living composers—interspersed between the Cage—that use the same set of preparations. Pianist/composer Amy Williams will present this journey through the eight permanent emotions of Ancient Hindu aesthetics: the "white" emotions (heroic, erotic, mirthful and wondrous) and the "black" emotions (fear, anger, disgust, and sorrow). All lead to a state of transcendence and tranquility. The performance will be played on a set of preparations that John Cage himself approved of.

Amy Williams is a composer of music that is "simultaneously demanding, rewarding and fascinating" (Buffalo News), "fresh, daring and incisive" (Fanfare). Her compositions have been presented at renowned contemporary music venues on four continents by many of the leading contemporary music soloists and ensembles, including the Pittsburgh Symphony Orchestra, Buffalo Philharmonic Orchestra, JACK Quartet, Orpheus, Dal Niente, Wet Ink, Talujon, International Contemporary Ensemble, and pianist Ursula Oppens. Her pieces appear on the Albany, Parma, VDM (Italy), Blue Griffin, Centaur and New Ariel labels. As a member of the Bugallo-Williams Piano Duo, Ms. Williams has performed at important new music festivals and series worldwide and recorded six critically-acclaimed CDs for Wergo (works of Nancarrow, Stravinsky, Varèse/Feldman and Kurtág). She has taught at Bennington College and Northwestern University and is currently Professor of Composition at the University of Pittsburgh. She is Artistic Director of the New Music On The Point Festival in Vermont.

UCCS students and VAPA faculty & staff receive free admission. To reserve your ticket contact the Ent Center Box Office at 719-255-8181 or tickets@uccs.edu. General admission tickets are $10, $8 seniors and military. For more information contact Jane Rigler at jrigler@uccs.edu.

---