PEAK FREQUENCY PRESENTS: ARMY BRASS QUINTET
PEAK FREQUENCY PRESENTS: ARMY BRASS QUINTET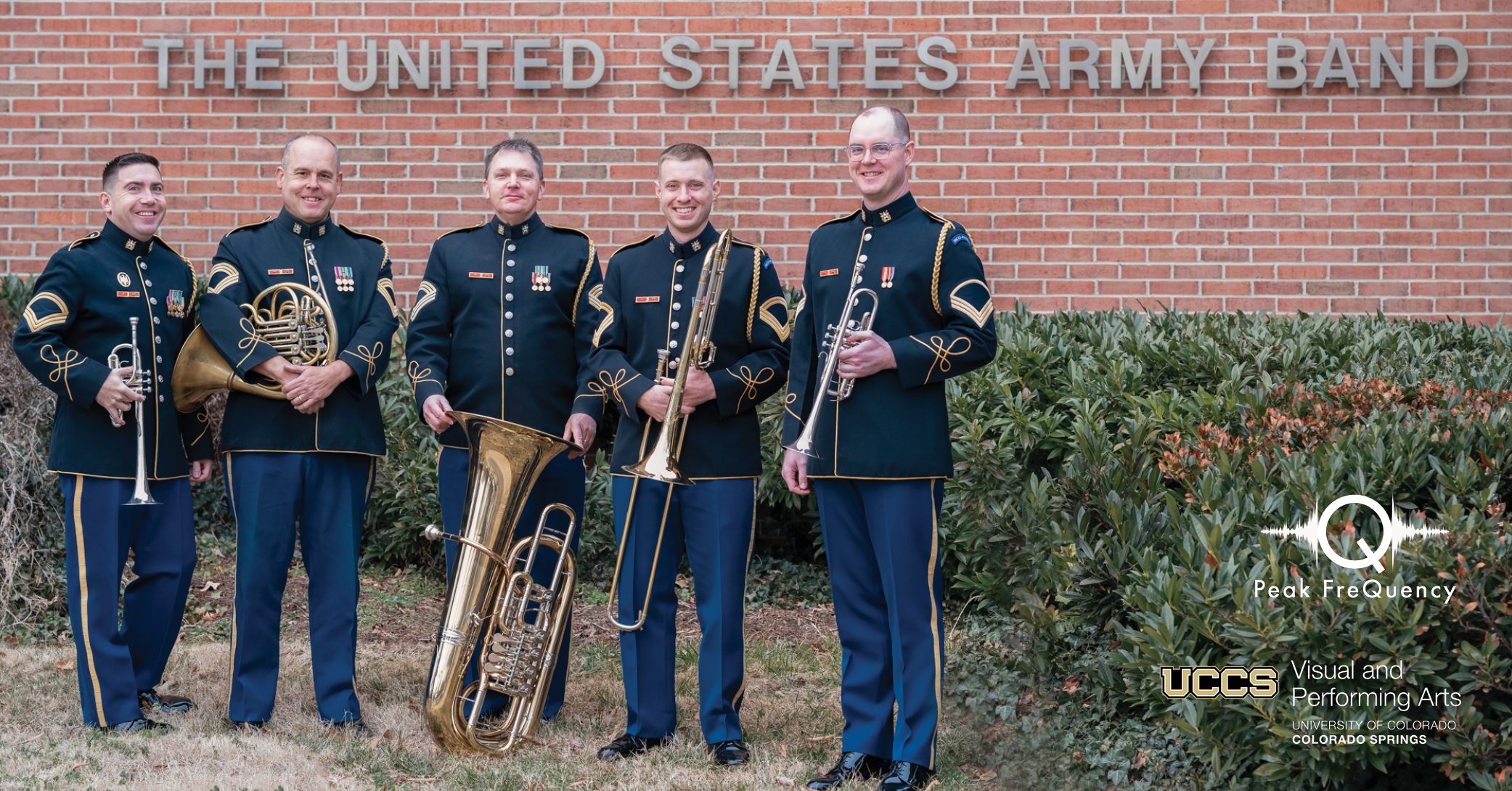 Chapman Foundations Recital Hall
Friday, March 24, 2023
7:30pm

---

Since its inception in 1972, The U.S. Army Brass Quintet has gained a reputation as one of the most highly respected and sought after groups of its kind. The ensemble has appeared before audiences and dignitaries in 48 states and 15 foreign countries. An element of The U.S. Army Band "Pershing's Own" in Washington, DC, The U.S. Army Brass Quintet has performed at the White House, presidential inaugurations, and official state ceremonies in the Nation's Capital. They have been selected repeatedly as the first ensemble to honor new presidents with the traditional "Hail to the Chief" on live national broadcasts. The U.S. Army Brass Quintet frequently provides musical support for special events hosted by the Secretary of Defense, the Secretary of the Army, and the Army Chief of Staff, as well as for ceremonies supporting the Military District of Washington.
The U.S. Army Brass Quintet has performed on NBC's "Today Show," the Food Network's "Emeril Live," NPR's "A Prairie Home Companion," CBS's "Sunday Morning," ABC, Fox, CNN, TNN, and internationally on BBC. The group also appears regularly on local and regional broadcasts throughout the nation.
The group's repertoire includes over 500 selections from all eras and genres of classical and popular music, interactive entertainment, video, and works for children. The U.S. Army Brass Quintet continues a long tradition in support of music education. Outreach activities include frequent appearances at the Midwest Band and Orchestra Clinic, the International Trumpet Guild Conference, The U.S. Army Band's annual Tuba-Euphonium Conference, and at high schools, universities, and conservatories throughout the United States and around the world.
This event is free and open to all but ticket reservation is required. For more information contact Glen Whitehead at gwhitehe@uccs.edu.

---