PEAK FREQUENCY PRESENTS: BENT FREQUENCY DUO PROJECT
PEAK FREQUENCY PRESENTS: BENT FREQUENCY DUO PROJECT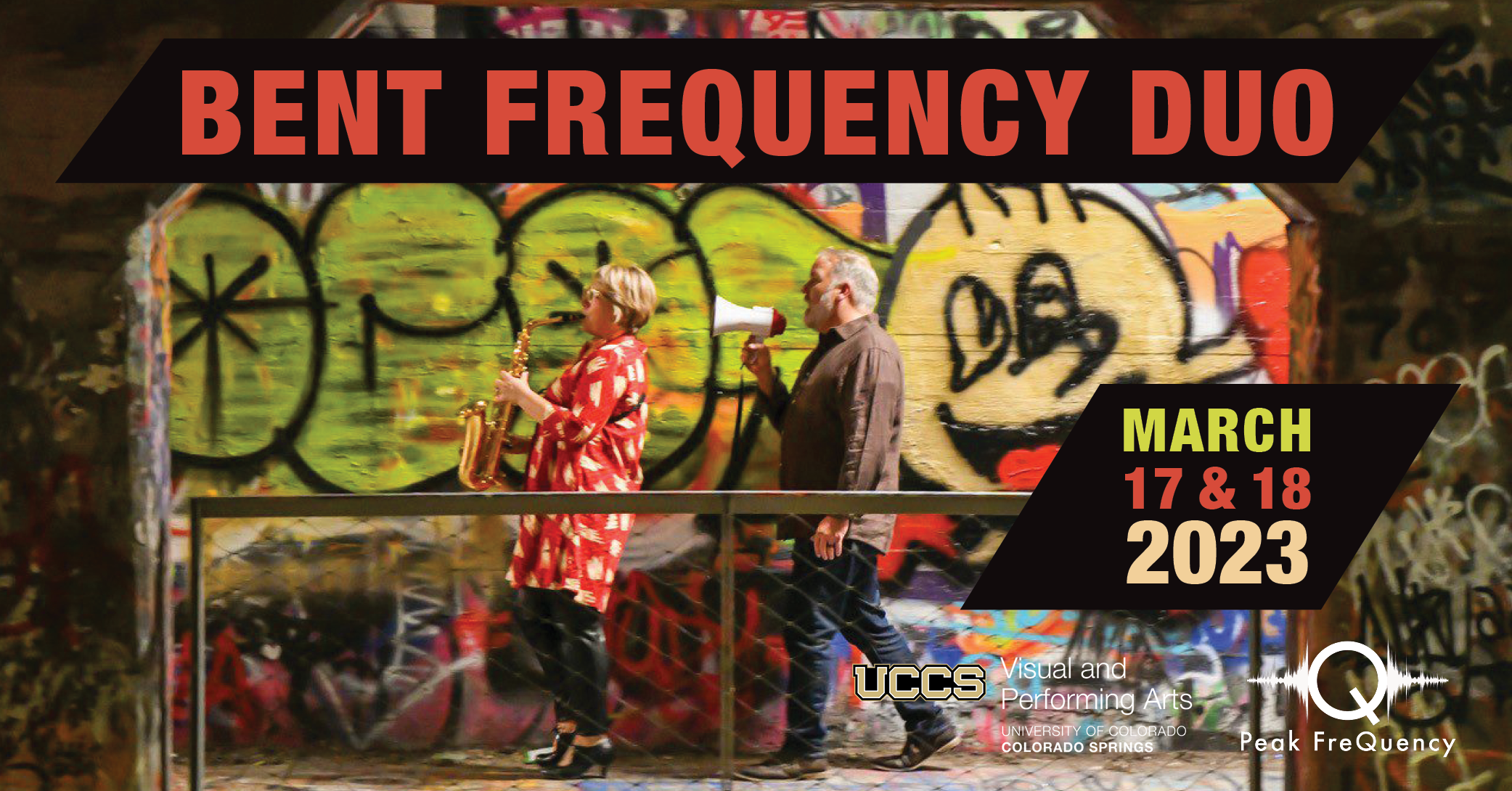 Chapman Foundations Recital Hall

Artist Talk: Community-Based Advocacy Through Adventurous Arts Programming
Friday, March 17, 2023
12:15pm-1:15pm
*Free and open to all*

Concert: "RESONANCE"
Saturday, March 18, 2023
7:30pm
---

ARTIST TALK
Jan Berry Baker (saxophone) and Stuart Gerber (percussion) of Bent Frequency will discuss the requirements for running a 501c(3) non-profit organization, establishing community partnerships, leveraging grant money as well as strategies for using creative and socially-conscious programming to create and build an engaged audience. This presentation will give insight into our nearly 20-year history of building Bent Frequency into a nationally recognized new music ensemble and an important and well-respected arts organization within our community in Atlanta.

CONCERT: "RESONANCE"
Founded in 2003, Atlanta-based Bent Frequency brings the avant-garde to life through adventurous and socially conscious programming, cross-disciplinary collaborations, and community engagement. One of BF's primary goals is championing the work of historically underrepresented composers - music by women, composers of color, and LGBTQIA+.
BF has partnered with internationally acclaimed ensembles, dance groups, and visual artists in creating unique productions ranging from traditional concerts to fully staged operatic works, to concerts on the ATL streetcar, to a band of 111 bicycle-mounted, community performers. BF's programming, educational outreach, and community events aim to be inclusive of the diverse and dynamic communities they are a part of. Since 2018 at least 75% of our programming has featured music by composers traditionally underrepresented in classical music. Our 2022-23 season, "RESONANCE" continues this mission.

As Co-Artistic Directors of Bent Frequency, percussionist Stuart Gerber and saxophonist Jan Berry Baker are The BF Duo Project. Stuart and Jan have commissioned over 40 new works for their duo since 2013 and have given countless performances across the United States, Mexico, and Europe. They have been guest ensemble in residence at the MATA Festival in Oaxaca, Mexico, Sam Houston State University in Texas, Tage aktueller musik festival in Nuremberg, Germany, Charlotte New Music Festival, The University of Georgia, and New Music on the Point. Their debut CD, Diamorpha, is available on the Centaur Label.

This program will feature new music written specifically for Bent Frequency for saxophone, percussion, electronics, and toy instruments! Written by Elainie Lillios, Amy Williams, George Lewis, Emily Koh and UCCS faculty member, Yvonne Wu, these works draw on many sources of inspiration; from inflection through semi-structured group improvisation to sonic meditations on community aiming to create a new musical "we"; from haiku depicting scenes of moonlight on an icy river to the lines and shapes in soil caused by water erosion; from simple sounds emanating from a child's playroom to the sonic depth of possibilities available when combining saxophone, percussion and electronics.
UCCS students and VAPA faculty & staff receive free admission. To reserve your ticket contact the Ent Center Box Office at 719-255-8181 or tickets@uccs.edu. General admission tickets are $10, $8 seniors and military. For more information contact Yiheng Yvonne Wu at ywu@uccs.edu.

---