PEAK FREQUENCY BRASS QUINTET PRESENTS: BRASS WORKS FOR MODERN TIMES
PEAK FREQUENCY BRASS QUINTET PRESENTS: BRASS WORKS FOR MODERN TIMES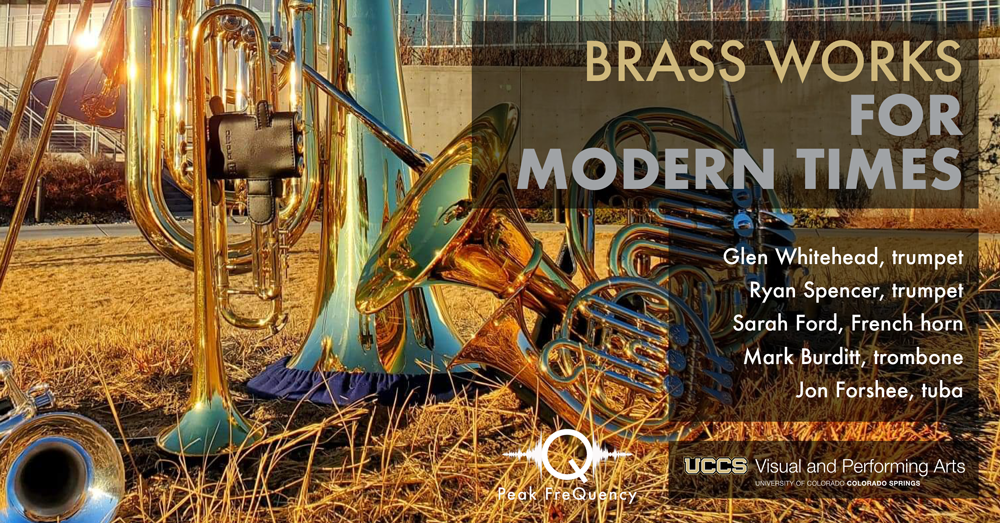 Chapman Foundations Recital Hall
Thursday, February 16, 2023
7:30pm

---

The Peak Frequency Brass Quintet celebrates Black History Month performing compositions by Pulitzer Prize Winners Anthony Davis and George Walker, along with Regina Harris Baiocchi, Evan Williams, Florence Price, and more! Glen Whitehead, trumpet; Ryan Spencer, trumpet; Sarah Ford, French horn; Mark Burditt, trombone; and Jon Forshee, tuba.

"Brass Quintet" - Anthony Davis
"Music for Brass; Sacred and Profane" - George Walker
"QFX for Brass Quintet" - Regina Harris Baiocchi
"Lux Aeterna: Quintet for Bras - Evan Williams
"Adoration" - Florence Price

UCCS students and VAPA faculty & staff receive free admission. To reserve your ticket contact the Ent Center Box Office at 719-255-8181 or tickets@uccs.edu. General admission tickets are $10, $8 seniors and military. For more information contact Glen Whitehead at gwhitehe@uccs.edu.

---