PEAK FREQUENCY PRESENTS: SAM NEWSOME TRIO
PEAK FREQUENCY PRESENTS: SAM NEWSOME TRIO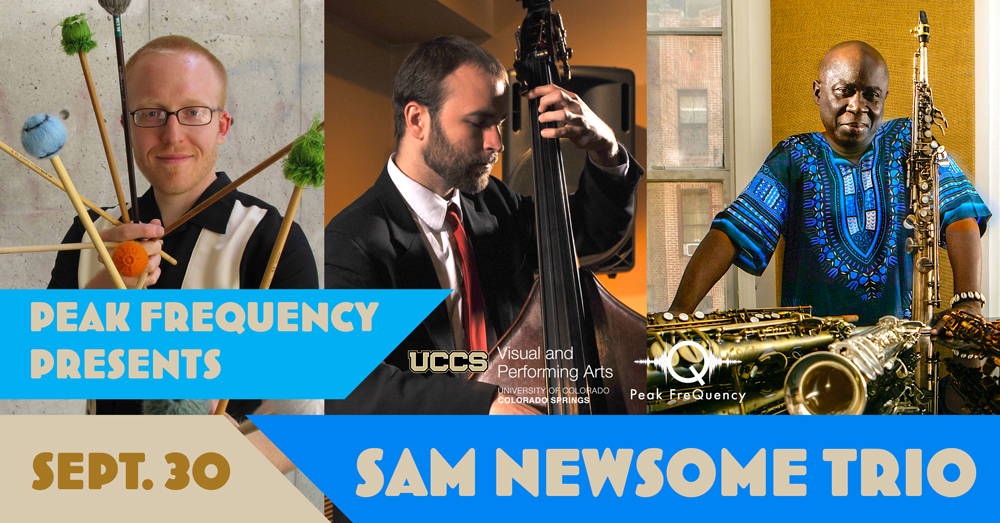 Chapman Foundations Recital Hall
Friday, September 30, 2022
Masterclass | 3pm
Concert | 7:30pm-9pm
---

This trio of soprano saxophonist, Sam Newsome (New York, NY); bassist, Matt Smiley (Denver, CO); and drummer/percussionist, Ron Coulter (Casper, WY), operates in the area of Creative Music, otherwise termed free jazz, and/or free improvisation. Their music is created in real-time, without planning or discussion; it is self-organizing music. It draws on the broad musical influences/histories/experiences of each player. Their music is spontaneous, unpredictable, and endlessly engaging. The group started working together just before the 2020 COVID lockdown and they released their first recording, Free Wyoming, later that year.

Sam Newsome is a New York-based saxophonist and composer who works primarily in the medium of solo saxophone, an approach through which he gained world-wide critical acclaim with the release of his 2009 recording Blue Soliloquy: Solo Works for Soprano Saxophone, which received a five-star review in Downbeat magazine. Many of the notes and sounds that comprise his compositions and improvisations are derived from his own personal sound palette of extended techniques: multi-phonics, flutter tonguing, percussive slap tonguing, soprano saxophone specific micro-tones, air sounds, key clicks, air hisses, acoustic sound manipulation, Tartini tones, and various forms of oral cavity manipulation. Newsome sees himself more along the lines of a visual artist who paints with notes and sounds rather than shapes and colors. "My music, " says Newsome, "is a type of improvisatory art music in which jazz functions more as a resource than a musical genre to be interpreted with stylistic specificity. Even though Newsome's approach is unorthodox, it has proven to be very fruitful—musically and critically.
In 2018, received the New Music USA Project Grant; he received the Alpert/Ragdale Residency Prize in Composition. In 2017, he was nominated for the Herb Alpert Award in the Arts. In 2016, he received the NYFA Artist's Fellowship for the Music/Sound category. The 2016 Jazz Journalist Association (JJA) selected him as a nominee for Soprano Saxophonist of the Year, and he placed #4 in the Soprano Saxophone category in the 64th Annual Downbeat Critics Poll--just behind Wayne Shorter and Dave Liebman. Newsome has also released six critically acclaimed solo saxophone CDs, including Sopranoville: Works for Prepared and Non-Prepared Saxophone (2017); The Straight Horn of Africa (2014); The Solo Concert: Sam Newsome Plays Monk and Ellington (2013); and The Art of the Soprano, Vol. 1 (2012). Jazz writer Ed Enright, from Downbeat Magazine, wrote that Mr. Newsome's The Straight Horn of Africa cd was "a modern masterpiece." As a performer, Newsome is a frequent collaborator with drummer Andrew Cyrille, vocalist Fay Victor, saxophonist David Liebman, and pianist Ethan Iverson. He also plays in the bands of AfroHorn, and frequently performs solo saxophone concerts around New York and across the country. Lastly, Newsome is an associate professor of music at the Brooklyn campus of Long Island University, where he is the music program coordinator, and teaches courses in jazz improvisation, music theory, and directs the University's jazz ensemble.

Matt Smiley is a bassist, composer, and educator from Staunton, VA, now residing in Denver, CO and completing his DMA in Jazz Studies at UC Boulder. In his work as a performer and a composer, Smiley focuses on developing systems and modes of playing at the nexus of composition and improvisation that reference elements of established American and European vernacular and experimental music traditions, while simultaneously and idiosyncratically deviating from them. His multifaceted and studied approach to both the bass and composition enable an adroit facility in both idiomatic and non-idiomatic settings. Since moving to Colorado, Smiley has worked with a number of diverse and prominent performers and composers including Alvin Lucier, Christian Wolff, Stephen Drury, Jean-Claude Risset, Terrell Stafford, and Greg Osby. In addition to his rigorous performance schedule, he teaches at both Denver School of the Arts Jazz Camp and The Gift of Jazz, a non-profit focusing on enriching the community through the creation, promotion, and preservation of the art of jazz in the Rocky Mountain Region.

Ron Coulter is a percussionist, improviser, composer, and educator; he has presented at 100+ universities internationally. As a performer, Ron has toured internationally appearing in 49 U.S. states, Europe, Canada, and Japan. He has performed with the Glenn Miller Orchestra, Chicago Chamber Orchestra, Music from China, Four Aces, Sean Jones, Al Martino, Linux Laptop Orchestra, New Arts Jazztet, David Murray, Hugh Ragin, Tony Malaby, Vinny Golia, Nate Wooley, Gino Robair, Michael Zerang, Chris Corsano, Eric Mandat, Tomeka Reid, Sandy Duncan, Youngstown Percussion Collective, Wyoming Symphony, National Repertory Orchestra, SeFaLoCo, and Tone Road Ramblers, among others. Ron has presented at conferences including: ISIM, PASIC, NIME, JEN, SPLICE, VU, Futurisms, Soundlines, ReVIEWING BMC3, RadiaLx, New Music Circle, the JVC and Montreal Jazz Festivals. Interests in noise, interdisciplinary collaboration, and non-idiomatic improvisation led to organizing Fluxconcerts and projects with artists specializing in performance art, video, and spoken word. Ron co-founded the Percussion Art Ensemble, duende entendre, Marble Hammer, Drm&Gtr, and founded the Southern Illinois Improvisation Series and Creative Music Series. As a composer, Ron has created 400+ compositions and can be heard on 80+ recordings.

UCCS students and VAPA faculty & staff receive free admission. To reserve your ticket contact the Ent Center Box Office at 719-255-8181 or tickets@uccs.edu. General admission tickets are $10, $8 seniors and military. For more information contact Glen Whitehead at gwhitehe@uccs.edu.

---