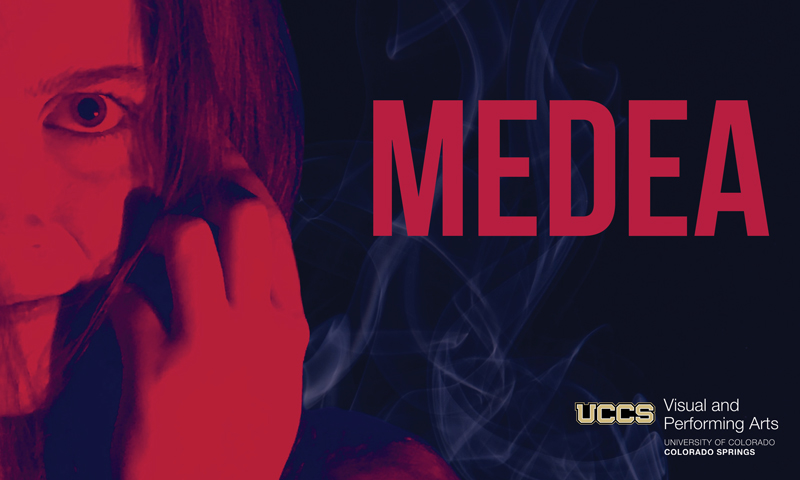 MEDEA
By Euripides
Directed by Kevin Landis

MAY 5-8 & MAY 10-11 | 7:30PM
MAY 9 | 2:30PM

Shockley-Zalabak Theatre at Ent Center for the Arts
 
---

The classic Greek tragedy about power and revenge, is re-envisioned in light of our own extraordinary times. Euripides' cathartic tale of the demi-goddess Medea, will perform in person, on the Shockley-Zalabak stage at the Ent Center for the Arts. Our annual main stage spring show features student actors and dancers, joining forces with professional designers and UCCS Music composers, to create a multi-sensory experience. 

For more information about this performance contact Kevin Landis at klandis@uccs.edu.
 
General admission tickets are $15.
*UCCS students receive free admission to all UCCS Theatre and Dance productions.
Contact the Box Office with your student ID number handy to receive your complimentary ticket. 
---
Grace Arnold................................Chorus
Madeline Campbell......................Chorus
Kylee Cotterman..........................Chorus
Jamie Galvan...............................Messenger/Tutor
Seth Lindsey................................Jason
Anna Lincoln................................Creon
Annika Mack................................Chorus
Audrey McGee.............................Medea
JoLynn Minns...............................Chorus
Matt Phillips..................................Aegeus
Sierra Tune...................................Nurse

Design Team:
Noel Armendariz...........................Composer
Roy Ballard...................................Scenic Designer 
Connor Bourgal............................Composer
Phoebe Boynton..........................Costume Designer
Sarah Brewer...............................Dramaturg
Leah Chandler-Mills.....................Vocal Coach
Jon Forshee.................................Music Director
Emiliano Gomez...........................Composer
Kevin Landis.................................Director
Molly McCabe...............................Assistant Stage Manager
Vance McKenzie...........................Lighting Designer
Serena McNearny.........................Assistant Choreographer
Solveig Olsen...............................Music Director
Kalie Petroff..................................Dramaturg
Katlyn Sturt...................................Costume Assistant 
Tiffany Tinsley Weeks...................Choreographer 
AJ Vafiades...................................Stage Manager
Glen Whitehead............................Music Director
Rachel Whitmore..........................Director Apprentice
 
Crew:
Patty Bizarro
Janessa Clint
Josue Robles