ANNUAL VAPA STUDENT FESTIVAL: STARS ABOVE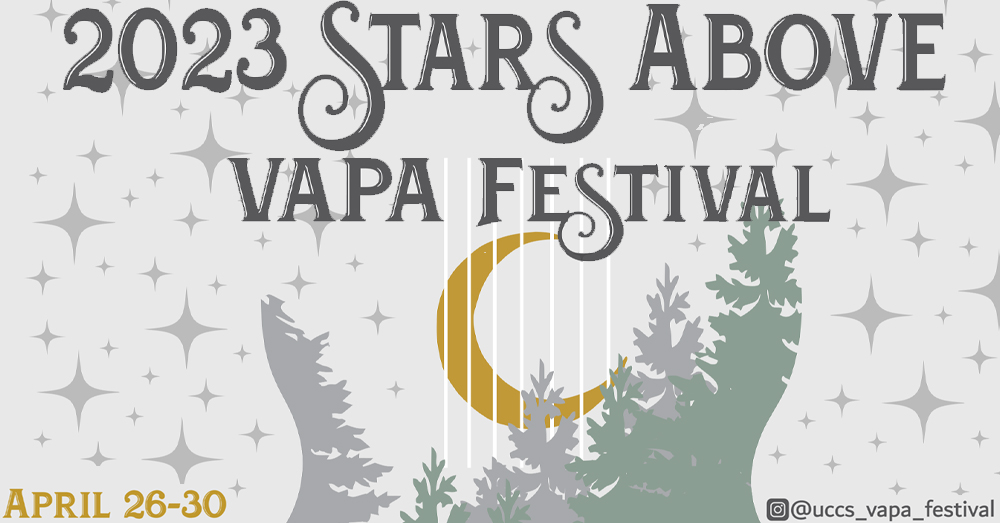 STARS ABOVE
The Annual VAPA Student Festival

Ent Center for the Arts
April 26-30, 2023
 
---

The UCCS Department of Visual and Performing Arts is proud to present the Annual Student VAPA Festival: Stars Above! We invite you to celebrate our community and remember those lost at Club Q with four days of art, performances, and showcases created by students in VAPA. This year we present the 22nd Annual UCCS Student Short Film Festival, the 17th Annual Senior Visual Art Exhibition, UCCS Theatre & Dance's production of Circle Mirror Transformation, music recitals, art history presentations, and so much more. No matter what medium fits your fancy, we hope you will come to engage with the phenomenal works created by students and participate in the many festivities we offer! 

Pre-Festival Events
Ouroboros: Senior Visual Art Exhibition
Opening Reception
Friday, April 14, 2023
5pm-9pm
GOCA Downtown
121 S. Tejon, Ste. 100
Free and open to all

April 26 | Wednesday
Theatre
Thespian Art Gallery
Osborne Studio Lobby
All day

Theatre
Collaboration: Visiting Scholar Talk with Cinco Placensia and Janani Balasubramanian
Osborne Studio Theater
5pm-6pm

Theatre
Musical Theatre Showcase
Chapman Foundations Recital Hall
6pm-7pm

Symphony 21: UCCS Symphony Orchestra
Shockley-Zalabak Theater
7:30pm-9pm
Reserve Free Tickets

April 27 | Thursday
Dance
Samba Class Performance
Overlook Studio
9:30am-10:30am 

Music
Capstone Presentations
ECFA 125
10:50am-12pm

Theatre
Theatre Game Night in partnership with Circle Mirror Transformation
ECFA 218
4:30pm-6pm

Art History
Meet an Artist
Murray Ross Lobby
6pm-8:30pm

Dance
Composition Performance
Overlook Studio
7pm-8pm
Music, Dance & Visual Art
Interdisciplinary Concert
Overlook Studio & Chapman Foundations Recital Hall
7pm-9pm

April 28 | Friday
Composition and Songwriting Concert
Students of MUS 2500 and 3500
Directed by Yvonne Wu
Chapman Foundations Recital Hall
3:30pm-5pm
Original music by Jess Dardaganian, Marcus Footman, Aaron Gohlke, Krysta Heshelman, Brayton Hines, Natalie Jensen, Joseph Logan, Sembatya Magoye, Skye Maldonado, Michael Miller, Tessandra Rosenthal, SJ Shaver, Laura Stephens, Chris Swanson and Akyl Wilburn. With guest performers Austin Ashmore, Evelyn Curtis, Gavin Burchett, Jorden Gershon, Oscar Mata, Ryan Montgomery, Daniel Patterson, Aidan Rooney, Anthony Turner, Steven Vertucci and Emily Williams.

Theatre
A Shooting Star: Meet Our Playwrights
ECFA 218
4:30pm-6:30pm

Music
"Tales of Hoffman" Silent Film Scoring Event
Heller Center for Arts & Humanities
7:30pm-10pm

Theatre
Opening Night for "Circle Mirror Transformation"
Osborne Studio Theater
7pm-10pm
General admission is $7

April 29 | Saturday
Art Auction
ECFA 218
10am-12:30pm
Museum Studies & Gallery Practice
Making Sense of the Stars: A Student-Led Exhibit
ECFA 245
11am-8pm

Theatre Costume and Set Gallery
Murray Ross Lobby
12:30pm-7:30pm

Film Studies
Annual UCCS Student Short Film Festival
Chapman Foundations Recital Hall
2pm-8pm

Circle Mirror Transformation Performance
Osborne Studio Theater
7pm-10pm
General admission is $7

April 30 | Sunday
Acapella Club Performance
Chapman Foundations Recital Hall
2pm-3pm

Prologue: Circle Mirror Transformation
Osborne Studio Theater
2:30pm-3:30pm

Circle Mirror Transformation Performance
Osborne Studio Theater
4pm-6:30pm
General admission is $7

Closing Event
Student Talent Show & Pizza Party
Chapman Foundations Recital Hall & GOCA Lobby
7pm-9pm

Post-Festival Events
Art History Capstone Presentations
Represent: Visualizing Identities from Romanticism to the Present
Heller Center for Arts & Humanities
Friday, May 5

"JMW Turner's Slave Ship: Connecting Romanticism to Marxism" ~ Madison Alford
"Beguiling Beauty and Misfortune: Is the Waterhouse Gaze Only Surface Level of Deceptively Deep?" ~ Sam Grimes
"The Collapse of Self-Reference: Marcel Duchamp's Multiple Identities" ~ Heather Pitts
"Capitalizing on Performance Art's Extremes: Marina Abramovic and Ulay's Juxtaposition of Intimacy to Sadomasicism" ~ Chloe Rosenkratz
"Femininity and Collective Memory: Cindy Sherman's Parody of Media Saturated Culture" ~ Makenzie Harris
"Illuminating Christ: A Study of Christian Contemporary Figurative Painting" ~ Jewel Charsley

For more information contact Dr. Kristen Galvin at kgalvin@uccs.edu.


Unless otherwise noted, these events are held in the Ent Center for the Arts and are free and open to all. For more information about the VAPA Festival contact uccsvapafestival@gmail.com. Find more events and other news at our website tinyurl.com/StarsAboveEvents.
---