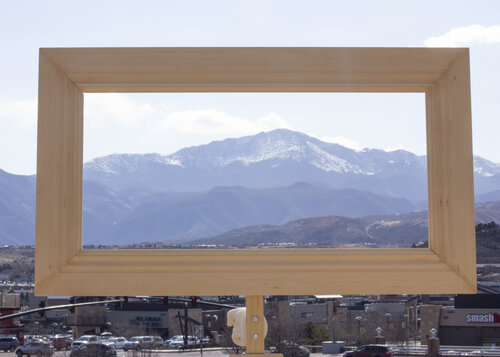 RECTANGULAR ARTIFICE
Artwork apart of The Space(s) Between 
Surrounding Ent Center for the Arts
March 5 - July 25, 2021 | Open Anytime
---
Rectangular Artifice created by Tobias Pike, 2021 encapsulates the "scenic overlook." This art work is a frame to acknowledge that our nature and our natural surroundings are indeed art. The frame operates as a stand-in for the artist pointing to these scenes, which don't even need pointing to because he is placing them in front of vast, unavoidable landscapes. 

Tobias Fike's projects in The Space(s) Between Sculpture Walk in Colorado Springs are Rectangular Artifice, 2021, wood, plaster, metal hardware, and Square Artifice, 2021, wood, plaster, paint, metal hardware. 
---
ABOUT THE ARTISTS
Tobias Fike, who works in Denver, CO, is an interdisciplinary, contemporary artist. The form of his work is incredibly varied and he approaches a range of concepts, from his personal experiences of family, place, and grief, to humankind's temporal relationship with the universe and observations of time.  
Fike was born in Lincoln, NE in 1975, moved to Kansas City when he was ten, and then later returned to Lincoln to attend the University of Nebraska, where he earned a BFA in 2000. He received his MFA from the University of Colorado Boulder in 2011. Fike has done multiple national tours showcasing his rich performance and collaboration-based projects. He is part of the Flinching Eye Collective, which was a 2014 Grantee of The Idea Fund, funded by the Andy Warhol Foundation for the Visual Arts. 
Additionally, one of Fike's collaborative works with Matthew Harris, a longtime colleague, is in the Kadist Art Foundation, Video Americas Collection, now housed in San Francisco, CA.  
Fike's work has been exhibited nationally and internationally, with exhibitions in many cities, including Berlin, Germany; Coimbra, Portugal; Shanghai, China; Houston, TX; Tucson, AZ; and Chicago, IL, to name a few. 
---
ABOUT THE EXHIBITION
This multi-site and multi-project exhibition samples contemporary artists exploring various understandings of how we experience the vastness of place and the iconic nature of the American West. Notions of the horizon as a convention through which we orient ourselves in relation to the landscape are central to the concept.
Uniquely this exhibit allows for both indoor and outdoor art experiences, Ent Center for the Arts is one of six sites to explore this exhibit featuring nearly 50 contemporary artists. We suggest you begin here with the Marie Walsh Sharpe Gallery of Contemporary Art, Friday through Sunday 12pm-6pm, registration encouraged but drop-ins are welcome. Explore the other sites of this Colorado Springs exhibit.

The Space(s) Between is a collaborative exhibition between two university art galleries - the University of Colorado Colorado Springs' Galleries of Contemporary Art and the University of Denver's Vicki Myhren Gallery. The exhibit is curated by artistic director and chief curator Daisy McGowan, along with Donald Fodness, and Geoffrey Shamos.