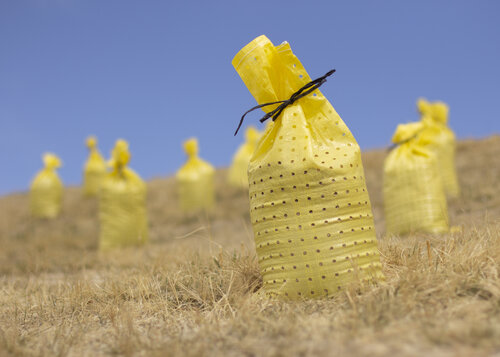 SIFT/SIEVE
Artwork apart of The Space(s) Between 
Surrounding Ent Center for the Arts
March 5 - July 25, 2021 | Open Anytime
---
Sift/Sieve (Undermine) is created by Elspeth A Schulze, 2021 and are perforated sandbags. Sandbags are often used as a measure of control- used together usually to hold back water. They are often stacked like bricks to serve unified purpose. By spreading them along the landscape it undermines their collective control.
Elspeth Schulze's project for The Space(s) Between is Sift/Sieve (Undermine), 2021, perforated sandbags, sand. This work is also on view at Vicki Myhren Gallery in Denver.
---
ABOUT THE ARTIST
Elspeth Schulze is from the Cajun culture of Southern Louisiana, a community steeped in celebration. Through ceramic, textile and sculptural processes, she explores the complex relationship between material and place. Schulze has a BA in Literature from Loyola University New Orleans and studied pattern making and garment design at the Fashion Institute of Technology in New York. She is currently completing an MFA in Ceramics at the University of Colorado Boulder. In 2021, Schulze will join the Tulsa Artist Fellowship in Tulsa, Oklahoma as an artist in residence. Working behind the scenes in the arts for over a decade, she has served variously as a studio assistant, production manager, and gallery director. Recent exhibition venues include the University of Colorado Art Museum, in Boulder, Colorado; Oklahoma Contemporary in Oklahoma City, Oklahoma; RedLine Art Center in Denver, Colorado; The Clay Studio in Philadelphia, Pennsylvania; and Union Hall in Denver, Colorado.
---
ABOUT THE EXHIBITION

This multi-site and multi-project exhibition samples contemporary artists exploring various understandings of how we experience the vastness of place and the iconic nature of the American West. Notions of the horizon as a convention through which we orient ourselves in relation to the landscape are central to the concept.
Uniquely this exhibit allows for both indoor and outdoor art experiences, Ent Center for the Arts is one of six sites to explore this exhibit featuring nearly 50 contemporary artists. We suggest you begin here with the Marie Walsh Sharpe Gallery of Contemporary Art, Friday through Sunday 12pm-6pm, registration encouraged but drop-ins are welcome. Explore the other sites of this state wide exhibit.

The Space(s) Between is a collaborative exhibition between two university art galleries - the University of Colorado Colorado Springs' Galleries of Contemporary Art and the University of Denver's Vicki Myhren Gallery. The exhibit is curated by artistic director and chief curator Daisy McGowan, along with Donald Fodness, and Geoffrey Shamos.