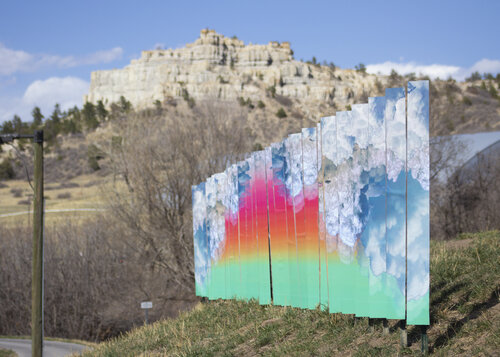 AMERICA DIVIDED
Artwork apart of The Space(s) Between 
Surrounding Ent Center for the Arts
March 5 - July 25, 2021 | Open Anytime
---
America Divided is a site-specific installation that contains two digitally constructed horizons broken into segments and presented as fence-like slats that perforate the landscape. The images are experienced, like a lenticular print, both simultaneously and individually by approaching the installation from opposing directions. The two horizons are each composed of identical images of cloudscapes, which are inverted and backed by contrasting backgrounds. The resulting effect is one horizon that appears as an ominous storm head with building clouds, and another that seems to present a clearing sky with clouds disbursing from the edges of the composition. Inspired by our contemporary political landscape, in which two Americas hold differing images of the world, the piece speaks to the fragmentation of reality that we each experience through our technologically mediated understanding of the world.

Libby Barbee's work in The Space(s) Between is America Divided, 2021, site-specific installation (t-posts, cedar slats, PVC tri vision prints), 5' h X 30.'
---
ABOUT THE ARTIST
Libby was born in 1981 on the southeastern plains of Colorado and currently lives in Denver, CO. She received her MFA from the Mount Royal School of Art at Maryland Institute College of Art in Baltimore, Maryland. She completed her undergraduate studies at Colorado State University in Fort Collins, CO; receiving a BFA in painting, a BFA in Art History, and a BA in the French Language. 
At the root of Libby's art, lies a fascination with the emotional, psychological, and cultural implications of place. She is fascinated by the human ability both to manipulate and be manipulated by an environment; and revels in the often confusing and multifarious mix-matches of meanings and associations that cling to particular places. From interactive sculptures to images of western landscapes constructed from fragments of cultural debris, her work explores the dynamics that emerge from the interstices where people and places collide. 
Recently, Libby has been interested in investigating the sometimes poetic, sometimes startling, but always-complicated relationship between nature and culture. Her most recent work explores the historical relationship between Americans and their environment and is specifically engaged in an examination of the American frontier myth and the mediating role it plays in the relationship between American identity and the American landscape. Through various media and forms, Libby's artwork explores the contemporary political and social implications of the frontier myth and imagines the western landscape as both a culture-defining myth and as a thoroughly domesticated and culturally constructed space. 
---
ABOUT THE EXHIBITION
This multi-site and multi-project exhibition samples contemporary artists exploring various understandings of how we experience the vastness of place and the iconic nature of the American West. Notions of the horizon as a convention through which we orient ourselves in relation to the landscape are central to the concept.
Uniquely this exhibit allows for both indoor and outdoor art experiences, Ent Center for the Arts is one of six sites to explore this exhibit featuring nearly 50 contemporary artists. We suggest you begin here with the Marie Walsh Sharpe Gallery of Contemporary Art, Friday through Sunday 12pm-6pm, registration encouraged but drop-ins are welcome. Explore the other sites of this state wide exhibit.

The Space(s) Between is a collaborative exhibition between two university art galleries - the University of Colorado Colorado Springs' Galleries of Contemporary Art and the University of Denver's Vicki Myhren Gallery. The exhibit is curated by artistic director and chief curator Daisy McGowan, along with Donald Fodness, and Geoffrey Shamos.