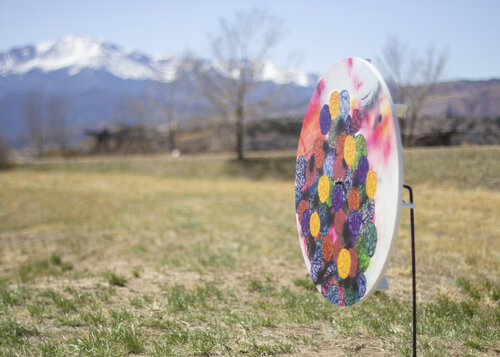 TUMBLEWEED WARFARE
Artwork apart of The Space(s) Between 
Surrounding Ent Center for the Arts
March 5 - July 25, 2021 | Open Anytime
---
Tumbleweed Warfare-Get In Where You Fit In created by Alvin Gregorio is a mixed media piece on wood with steel hardware.This art represents the tumbleweed that moves, over and through, sometimes getting entangled with other tumbleweeds, getting broken or stuck but also slowly moving along the landscape.
Alvin Gregorio's work featured in The Space(s) Between is Tumbleweed Warfare-Get In Where You Fit In, 2021, mixed media on wood with steel and hardware, approx. 3'x3'x5'
---
ABOUT THE ARTISTS
Alvin Gregorio has spent his adult life pursuing the expression of immigration, the disintegration of family, violence & war, religion, spirituality, and the defense mechanisms used to contain these issues. Gregorio's work includes drawing, painting, audio, installation, sculpture, and performance. 
Gregorio received his Master's of Fine Arts from Claremont Graduate University in 2000. Then conducted research in the Philippines in 2000-01 as a Fulbright Scholar. His work has been collected worldwide and has been exhibited in such cities as Los Angeles, San Francisco, Denver, New York City, Hong Kong, Beijing, Singapore, Turin, New Delhi, Jerusalem, Manila, Jakarta, and Mexico City. He is represented by the Drawing Room Gallery in Manila. Gregorio is currently an Associate Professor of Arts Practices in Drawing & Painting at the University of Colorado Boulder. He is based in Boulder/Denver, CO, and Orange County, CA with his partner and teenage child.  
---
ABOUT THE EXHIBITION
This multi-site and multi-project exhibition samples contemporary artists exploring various understandings of how we experience the vastness of place and the iconic nature of the American West. Notions of the horizon as a convention through which we orient ourselves in relation to the landscape are central to the concept.
Uniquely this exhibit allows for both indoor and outdoor art experiences, Ent Center for the Arts is one of six sites to explore this exhibit featuring nearly 50 contemporary artists. We suggest you begin here with the Marie Walsh Sharpe Gallery of Contemporary Art, Friday through Sunday 12pm-6pm, registration encouraged but drop-ins are welcome. Explore the other sites of this state wide exhibit.

The Space(s) Between is a collaborative exhibition between two university art galleries - the University of Colorado Colorado Springs' Galleries of Contemporary Art and the University of Denver's Vicki Myhren Gallery. The exhibit is curated by artistic director and chief curator Daisy McGowan, along with Donald Fodness, and Geoffrey Shamos.