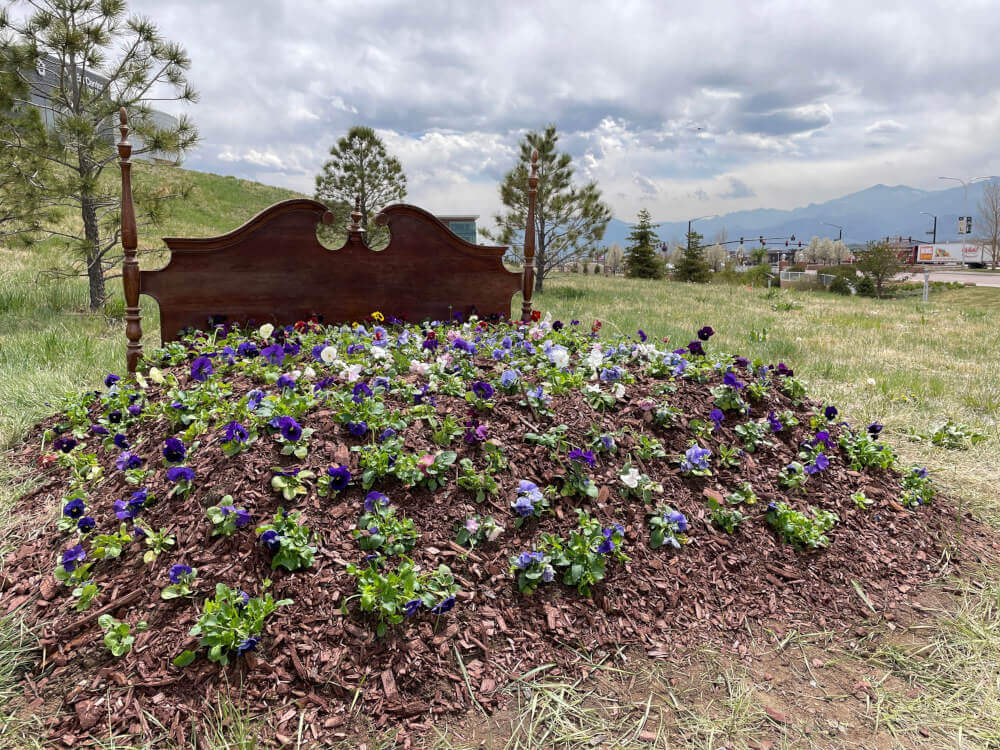 FLOWER BED
Artwork apart of The Space(s) Between 
Surrounding Ent Center for the Arts
March 5 - July 25, 2021 | Open Anytime
---
Flower Bed is created by Lance McGoldrick, 2021. The Flower Bed, encourages people to make space for ourselves as well as nature.
McGoldrick says, " Every act of creation is also an act of destruction. For this installation, I will construct a bed of flowers and invite the viewer to lay on them. This work encourages a reimagining of our relationship with nature." The artist wants to ask viewers how we make space for ourselves and while still leaving make space for nature?
---
ABOUT THE ARTIST
Lance Ryan McGoldrick is a multi-media artist working in a variety of nontraditional contexts. His work ranges from discrete objects to immersive environments, often created with combinations of found-objects, texture, light, and geometry. Incorporating youthful exuberance, his work explores environmental themes as a reflection of place and with a reverence for nature. His work appears in non-traditional spaces as well as in galleries, at festivals, and as public art installations. 
Lance holds a degree in Entrepreneurial Studies from the University of New Mexico. His enterprises have included the operation of a landscaping company and a screen-printing shop; he was also an award-winning display artist for Urban Outfitters. He often collaborates with other artists, in particular the Albuquerque-based non-profit Friends of the Orphan Signs. He works most often with the internationally-acclaimed art collective Meow Wolf building immersive environments in New Mexico, Las Vegas, Denver, and elsewhere. 
Born in the mountains of Placitas, New Mexico, Lance has lived most of his life in Albuquerque where his parents, grandparents, and larger community nurture a love of art and nature. 
---
ABOUT THE EXHIBITION
This multi-site and multi-project exhibition samples contemporary artists exploring various understandings of how we experience the vastness of place and the iconic nature of the American West. Notions of the horizon as a convention through which we orient ourselves in relation to the landscape are central to the concept.
Uniquely this exhibit allows for both indoor and outdoor art experiences, Ent Center for the Arts is one of six sites to explore this exhibit featuring nearly 50 contemporary artists. We suggest you begin here with the Marie Walsh Sharpe Gallery of Contemporary Art, Friday through Sunday 12pm-6pm, registration encouraged but drop-ins are welcome. Explore the other sites of this state wide exhibit.

The Space(s) Between is a collaborative exhibition between two university art galleries - the University of Colorado Colorado Springs' Galleries of Contemporary Art and the University of Denver's Vicki Myhren Gallery. The exhibit is curated by artistic director and chief curator Daisy McGowan, along with Donald Fodness, and Geoffrey Shamos.