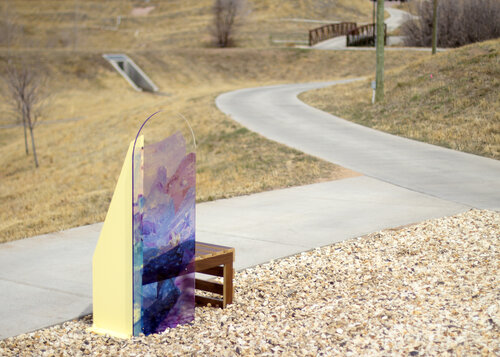 HERE THROUGH THERE
Artwork apart of The Space(s) Between 
Surrounding Ent Center for the Arts
March 5 - July 25, 2021 | Open Anytime
---
Here Through There created by Tyler Beard and Amelia Carley. This art works with the horizon line through the transparent painted image within the sculpture. As the viewer sits on the bench they can gaze in and through the fictitious landscape while physically engaging with the beautiful mountains in front of them.

Beard and Carley are collaborating for their work in The Space(s) Between. Images of their functional work on view on the Sculpture Walk at Colorado Springs, Here Through There, 2021, digital painting on vinyl, plexiglass, and wood.
---
ABOUT THE ARTISTS
Tyler Beard (b. 1982, Olathe, KS) received an MFA from the University of Colorado at Boulder and a BFA from the University of Kansas. He has had solo shows at Deanna Evans Projects, NY; Atlanta Contemporary, GA; the Museum of Contemporary Art Denver, CO; Central Utah Arts Center, UT; Robischon Gallery, CO.  Additionally, He has been featured in group exhibitions at ROCKELMANN&, Berlin; Victori + Mo, NY; Coop Gallery, TN; Boulder Museum of Contemporary Art, CO; and the Biennial of the Americas, CO. He has participated in numerous artist residencies including the Montello Foundation, NV; Anderson Ranch Arts Center, CO; Ceramic Center Berlin, GER; Watershed Center for the Ceramic Arts, MN; and OffShore, NY.  Beard currently lives and works in Brooklyn, New York. 
Amelia Carley is an artist making work concerning the interpretation of memories within the landscape and fictitious sites. Born and raised in Colorado, Carley received a BFA from the University of Colorado at Boulder and an MFA at the Ernest G. Welch School of Art and Design at Georgia State University. Carley has exhibited at such venues as SOMArts (San Francisco, CA), Savannah College of Art and Design (Savannah, GA), Oregon Southern University (Ashland, OR), Utah Museum of Contemporary Art (Salt Lake City, UT), Hathaway Gallery (Atlanta, GA), Boulder Museum of Contemporary Art (Boulder, CO), Hyperlink Gallery (Chicago, IL), Curfman Gallery at Colorado State University (Fort Collins, CO), Day & Night Projects (Atlanta, GA), Galleries of Contemporary Art at University of Colorado (Colorado Springs, CO), Colorado Photographic Arts Center (Denver, CO), Glass Gallery at University of Georgia (Athens, GA), and SOUP Experimental (Tallahassee, FL). She has participated in several artist-in-residence programs including Atlantic Center for the Arts and Vermont Studio Center. In 2017, Carley received an Artist Project Grant through the Atlanta Mayor's Office of Cultural Affairs. Carley currently lives and works in Brooklyn, New York where she is a Visiting Faculty at Pratt Institute. 
---
ABOUT THE EXHIBITION
This multi-site and multi-project exhibition samples contemporary artists exploring various understandings of how we experience the vastness of place and the iconic nature of the American West. Notions of the horizon as a convention through which we orient ourselves in relation to the landscape are central to the concept.
Uniquely this exhibit allows for both indoor and outdoor art experiences, Ent Center for the Arts is one of six sites to explore this exhibit featuring nearly 50 contemporary artists. We suggest you begin here with the Marie Walsh Sharpe Gallery of Contemporary Art, Friday through Sunday 12pm-6pm, registration encouraged but drop-ins are welcome. Explore the other sites of this state wide exhibit.

The Space(s) Between is a collaborative exhibition between two university art galleries - the University of Colorado Colorado Springs' Galleries of Contemporary Art and the University of Denver's Vicki Myhren Gallery. The exhibit is curated by artistic director and chief curator Daisy McGowan, along with Donald Fodness, and Geoffrey Shamos.