A THOUSAND WAYS (PART TWO)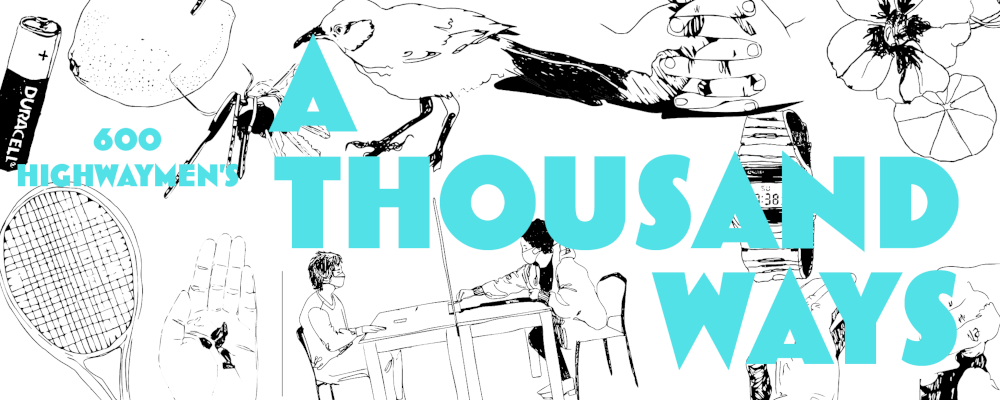 A THOUSAND WAYS (Part Two): An Encounter
August 27-29, 2021
Ent Center for the Arts
YOU ARE GOING TO HAPPEN UPON SOMEONE
---

You and a stranger meet on opposite ends of a table, separated by a pane of glass. Using a script and a few simple objects, a simple exercise of working together becomes an experience of profound connection with another person.

---
Complete the journey in Part Three: An Assembly. Learn more here > > >
THIS EXPERIENCE CANNOT TAKE PLACE WITHOUT YOU!
Because this experience is for you and one other audience member, it cannot take place without your presence.
Why does Part Three begin before Part Two? Do I have to participate in chronological order?

Parts do not need to be done in order to have a fulfilling experience.

What COVID-19 safety protocols are in place for this event?

Face coverings are required throughout the duration of the event. The two audience members will be seated across from one another and separated by a clear partition. Hand-sanitizer units are placed throughout the building. There will be no physical contact between audience members or with staff. We will be sanitizing chairs and surfaces within the venues after every performance.

Can I participate in this performance with another member of my household?

The experience is for two people who do not know each other.

What if I did not attend Part One?

Each part is a self-contained, complete artistic experience. Feel free to attend Part Two if you didn't have a chance to attend Part One.

You'll be sitting across from someone, reading (sometimes aloud and sometimes in silence) from a stack of notecards. Sometimes you'll be given things to say or small tasks to do. You and the person across from you will stay seated at the table the entire time.

What else do I need to know?

Due to the intimate nature of this experience, we cannot accommodate late arrivals.
"It was a introspective, intimate, unique, and emotionally impactful experience for me. For that hour, I felt a little less alone."

"A tender and magical gift in these times!"

"My heart is full. This is the art we need right now."

"WOW. What a unique, touching, and deeply intimate experience. I found myself moved in ways I could not have anticipated."

"It was pure poetry, synchronicity, and magic. It reinstated my faith in the power and beauty of the image world. It has stayed with me for days and remains the most powerful theatrical event I have had since sheltering."

"It really was amazing and moving. Almost spooky, really electric."

"Smart, poetic and still surprising experience. It's so well put together and composed that I'm sure it would have been impactful regardless of the pandemic. In other words: I think the feeling of doing this piece would have been meaningful as a human in any moment in time, but seems particularly resonant right now."

---

This production was commissioned by The Arts Center at NYU Abu Dhabi, Stanford Live at Stanford University, Festival Theaterformen, and The Public Theater, and was originally commissioned and co-conceived by Temple Contemporary at Temple University. Part One: A Phone Call was developed in partnership with On the Boards production and technical teams. Original support for the production was provided by The Pew Center for Arts & Heritage, Philadelphia.

---