DEEP LISTENING SOUND WALK WITH JANE RIGLER
DEEP LISTENING© SOUND WALK WITH JANE RIGLER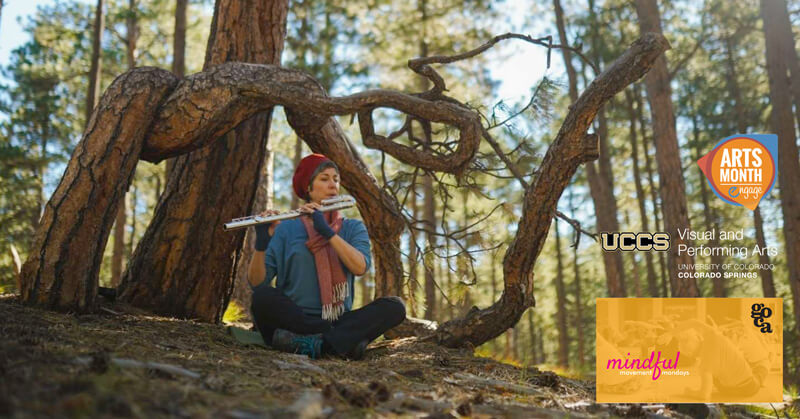 Ent Center for the Arts Grounds
Monday, October 4, 2021
12pm-1pm
---

UCCS Galleries of Contemporary Art announces a special Deep Listening© Sound Walk event with Jane Rigler, flautist and VAPA Associate Professor of Music. As a Certified Deep Listening© Certificate facilitator, Jane Rigler will gently engage participants to explore various multi-sensorial practices through the simple act of walking-while-listening. The free event is part of Walktober at UCCS, Arts Month October, and the Mindful Movement Mondays series at GOCA.

Jane Rigler, flutist, composer, improviser, educator and Deep Listening® facilitator enjoys exploring the complexities of language through the flute, voice, gesture and movement. She is Associate Professor of Music at UCCS, and thrives at artist residencies like Civitella Ranieri, Montalvo, Ucross, Hambidge, and Harvestworks that promote her collaborative, explorative nature. In 2009-10 she received the US-Japan Friendship Creative Artist Fellowship, and she spent most of 2020 in Ireland on a Fulbright Award where she studied Irish (Gaeilge), Sean-nós and the ancient Ogham scripts for a series of new compositions based on listening and research of the stones, ancient trees and landscapes. Image credit: Clay Bowen @2021

This event is free and open to the public but registration is required (follow ticket link). For more information contact Daisy McGowan at dmcgowan or 719-255-3504.

---
NATIONAL ARTS MONTH
Check out the multiple ways to enjoy Arts Month with Ent Center for the Arts